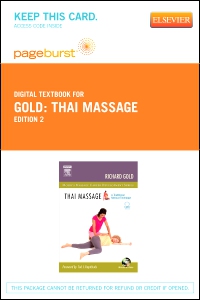 Publication Date:
10-11-2006
Thai Massage - Elsevier eBook on VitalSource (Retail Access Card), 2nd Edition
Elsevier eBook on VitalSource - Access Card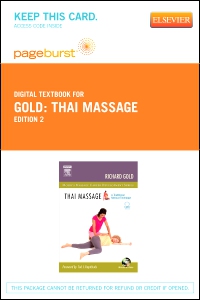 Publication Date:
10-11-2006
Or $0.00 with a valid access code
Free Shipping!
This item has low stock levels and may be back-ordered. We'll let you know if it is back-ordered, and you will not be charged until the item ships.
This practical and highly illustrated introduction to the principles and techniques of Thai massage discusses the theories of Thai medicine and its Chinese and Ayurvedic influences. It offers clear and easy-to-follow descriptions for all Thai massage techniques accompanied by full color photographs and drawings, with arrows to indicate direction of movement. Basic explanations describe how massage therapists can use elements of these techniques and apply them immediately in their own practice. The book includes a DVD with 45 minutes of video showing techniques and routines in real time, to demonstrate appropriate pacing.
Gives clear and easy-to-follow descriptions for each technique.
Techniques can be used alone, in conjunction with other forms of massage, or to facilitate Yoga and other meditation practices.
Clinically valuable and practical explanations of how to use elements of the procedures make it easy for therapists to enrich their practice with these techniques -- whether applying all of the methods, or starting with stretches alone.
Features an icon throughout the text that calls attention to precautions therapists must be aware of for safe and effective sessions.
Includes a 45-minute DVD presenting video of techniques and routines in real time, to demonstrate proper pacing.

Photographs, drawings, and illustrations of techniques are now in full color, for greater clarity of concepts.
More historical background provides a deeper understanding of this ancient medical art.
An accompanying DVD offers a 45-minute video of a Thai massage session in real time - demonstrating procedures with proper pacing. The visual approach along with its step-by-step narration helps viewers understand how the concepts discussed in the book translate to actual practice. The book also includes DVD icons that indicate which techniques are demonstrated on the DVD.
Increased coverage of body mechanics helps readers understand the difference between correct and incorrect technique.
Legends below the photographs provide specific information on the muscles being pressed or stretched with each technique to help therapists understand how this art of Asian healing corresponds to Western anatomy. A new Muscle Atlas appendix helps to further identify muscles mentioned in these legends.
A new chapter, Correlations to Yoga, outlines the correlations between specific Thai massage procedures and yoga postures to help therapists incorporate Yoga into their practices.
A new chapter, Suggested Sequences, provides guidelines for 60-, 90-, and 120-minute sessions - taking the guesswork out of planning Thai massage sessions.

Foreword by Ted J. Kaptchuk
Introduction: Closing a Circle
Unit 1-History and Methods
1. Traditional Thai Medicine
A brief history of medicine in Thailand
Buddhist influences on Thai massage
Basic Theories
-The issue of wind
-Sen: the energy pathways of the body
2. Rules, Methods and Techniques
Rules
Methods
Body Awareness
Working Postures
Rhythm & Flow
Therapeutic Actions: East and West
Overcoming Limitations
Techniques
Precautions and contraindications
Unit 2-Practical Application
3. Client in Supine Position
Legs and feet
-Working the Sen lines of the legs
The abdominal region
Chest, shoulders, neck, arms
Face and neck
4. Client in Lateral Recumbent Position
Legs
-Stretches applied with the feet
Hips and back
Arms, hands and fingers
Stretching techniques
5. Client in Prone Position
Feet and legs
Back and shoulders
Stretching Techniques
6. Client in Seated Position
Shoulders, neck and back
Face
Stretching Techniques
Ending the session
Unit 3-Application for Practice
7. Suggested Sequences
Timeliness & Timelessness
Suggested Sequence for a 60 Minute session
Suggested Sequence for a 90 Minute session
Suggested Sequence for a 120 Minute session
8. Correlations to Yoga
Thai Massage and Yoga
Resources
Appendix A: Muscle Atlas
Appendix B: Mantra
Conclusion
Bibliography
Further Reading
Index

Richard Gold, PhD, LAc, Practitioner and Lecturer, San Diego, CA