Pediatric Occupational Therapy Handbook - Elsevier eBook on VitalSource (Retail Access Card)
,
Elsevier eBook on VitalSource - Access Card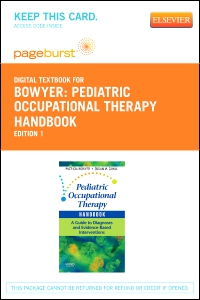 Or $0.00 with a valid access code
Free Shipping!
This item has low stock levels and may be back-ordered. We'll let you know if it is back-ordered, and you will not be charged until the item ships.
Combining essential assessment guidance with the latest evidence-based intervention strategies, this compact reference helps you quickly locate the information you need to evaluate and manage pediatric disorders. Access diagnosis-specific information on epidemiology, precautions, and more, as well as suggested interventions supported by the latest research, all in a convenient, pocket-sized handbook perfect for the busy clinical setting. Information is presented in a consistent format for easy reference and complies with the OT Practice Framework to help you ensure the most effective therapeutic outcomes.
Evidence-based evaluation and intervention content on over 80 common pediatric diagnoses helps you make sound clinical decisions supported by documented research.
Intervention strategies are highlighted through the text for fast, easy reference when planning treatment.
Convenient A-Z organization and pocket-sized format help you locate diagnosis-specific information quickly in busy practice settings.
Case studies illustrate real-life patient scenarios and help hone your clinical reasoning skills.

Section I: Guide to Pediatric Practice

1. Using the Occupational Therapy Practice Framework in Pediatric Practice

2. Using Evidence to Guide Occupational Therapy Practice

Section II: Guide to Diagnoses and Interventions

3. Achondroplasia

4. Acquired Brain Injury

5. Acquired Immunodeficiency Syndrome

6. Albers-Schonberg Disease

7. Amblyopia

8. Anemia

9. Angelman's Syndrome

10. Anorexia

11. Anxiety

12. Apnea

13. Arthrogyposis Multiplex Congenita

14. Asthma

15. Attention Deficit Disorders

16. Autism Spectrum Disorders

17. Bipolar Disorder

18. Brachial Plexus Injury

19. Bronchopulmonary Dysplasia

20. Bulimia

21. Cerebral Palsy

22. Cleft Palate

23. Conduct Disorder

24. Congenital Clubfoot

25. Congenital Heart Defects

26. Congenital Obstructive Hydrocephalus

27. Cri Du Chat Syndrome

28. Cystic Fibrosis

29. Depression

30. Developmental Coordination Disorder

31. Disseminated Intravascular Coagulation

32. Down Syndrome (Trisomy 21)

33. Dysrythmias

34. Edward's Syndrome (Trisomy 18)

35. Epilepsy (Seizure Disorder)

36. Fetal Alcohol Syndrome

37. Fragile X Syndrome

38. Galactosemia

39. Gastrochisis

40. Hemophilia

41. Hydrocephalus

42. Hyperbilirubinemia

43. Hypoxic-ischemic Encephalopathy

44. Intellectual Disabilities

45. Intraventricular Hemorrhage

46. Juvenile Diabetes

47. Juvenile Rheumatoid Arthritis

48. Klinefelter's Syndrome

49. Learning Disabilities

50. Legg-Calve-Perthes Disease

51. Lesch-Nyhan Syndrome

52. Lordosis

53. Marfan Syndrome

54. Meconimum Aspiration Syndrome

55. Micrognathia

56. Mononucleosis

57. Muscular Dystrophy

58. Necrotizing Enterocolitis

59. Neonatal Respiratory Problems

60. Neurofibromatosis

61. Nystagmus

62. Obesity

63. Oppositional Defiant Disorder

64. Osteogenesis Imperfecta

65. Patau's Syndrome (Trisomy 13)

66. Periventricular Leukomalacia

67. Persistent Pulmonary Hypertension

68. Phenylketonuria (PKU)

69. Pica

70. Post Traumatic Stress Disorder (PTSD)

71. Pneumonia

72. Prader-Willi Syndrome

73. Retinopathy of Prematurity

74. Rheumatic Heart Disease

75. Scoliosis

76. Separation Anxiety and Social Phobia

77. Sensory Processing Disorder

78. Sepsis

79. Sickle Cell Anemia

80. Spina Bifida

81. Spinal Muscular Atrophy

82. Strabismus

83. Tay-Sachs Disease

84. Tourette's Syndrome

Appendix A: Websites for Research

Appendix B: Assessment Tools

Patricia Bowyer, EdD, OTR/L, BCN, Associate Professor and Associate Director, Texas Woman's University at Houston, The Texas Medical Center, Houston, TX and Susan M. Cahill, MAEA, OTR/L, Clinical Assistant Professor, Department of Occupational Therapy, University of Illinois at Chicago, Chicago, IL, USA