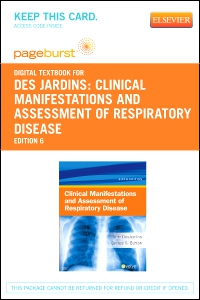 Publication Date:
03-25-2010
Clinical Manifestations and Assessment of Respiratory Disease - Elsevier eBook on VitalSource (Retail Access Card), 6th Edition
Elsevier eBook on VitalSource - Access Card
Publication Date:
03-25-2010
Or $0.00 with a valid access code
Free Shipping!
This item has low stock levels and may be back-ordered. We'll let you know if it is back-ordered, and you will not be charged until the item ships.
Learn to assess and treat respiratory care disorders! Now in full color, Clinical Manifestations and Assessment of Respiratory Disease, 6th Edition bridges normal physiology and pathophysiology to provide a solid foundation in recognizing and assessing conditions. Authors Terry Des Jardins and George G. Burton describe how to systematically gather clinical data, formulate an assessment, make an objective evaluation, identify the desired outcome, and design a safe and effective treatment plan, while documenting each step along the way. Unique coverage of Therapist-Driven Protocols (TDPs) prepares you to implement industry-approved standards of care.
Unique! Clinical scenarios connect to specific diseases so you can better understand the disease and the treatment modalities used.
Unique! A focus on assessment and Therapist-Driven Protocols (TDPs) emphasizes industry-approved standards of care, providing you with the knowledge and skills to implement these protocols into patient care.
Case studies help in applying information to assessment and treatment.
Overview boxes summarize the clinical manifestations caused by the pathophysiologic mechanisms of each disorder.
End-of-chapter questions include multiple-choice, short answer, matching, and case studies to test knowledge and understanding, pointing out areas that might require further study.
A glossary of key terms with definitions is included in the back of the book.
Appendices offer easy access to information such as calculations, symbols, medications, and measurements, plus answers to selected case studies.

A unique full-color design enhances content and shows realistic examples of diseases and conditions.
Student-friendly features reinforce learning with chapter outlines, objectives, and key terms.
A consistent presentation of disease information shows background, treatment, and assessment for each condition so you learn the material in a clear, cohesive manner.
Over 15 additional case studies with answers are added to the companion Evolve website.

PART I: ASSESSMENT OF RESPIRATORY DISEASE

Section I: Clinical Data Obtained at the Patient's Bedside

The Patient Interview

The Physical Examination and Its Basis in Physiology

Section II: Clinical Data Obtained from Laboratory Tests and Special Procedures

Pulmonary Function Study Assessments

Arterial Blood Gas Assessments

Oxygenation Assessments

Cardiovascular System Assessments

Radiologic Examination of the Chest

Other Important Tests and Procedures

Section III: The Therapist-Driven Protocol Program – The Essentials

The Therapist-Driven Protocol Program and the Role of the Respiratory Therapist

Recording Skills: The Basis for Data Collection, Organization, Assessment Skills, and Treatment Plans

PART II: OBSTRUCTIVE AIRWAY DISEASES

Chronic Obstructive Pulmonary Disease (COPD), Chronic Bronchitis, and Emphysema

Asthma

Bronchiectasis

Cystic Fibrosis

PART III: INFECTIOUS PULMONARY DISEASES

Pneumonia

Lung Abscess

Tuberculosis

Fungal Diseases of the Lung

PART IV: PULMONARY VASCULAR DISEASES

Pulmonary Edema

Pulmonary Embolism

PART V: CHEST AND PLEURAL TRAUMA

Flail Chest

Pneumothorax

PART VI: DISORDERS OF THE PLEURA AND OF THE CHEST WALL

Pleural Diseases

Kyphoscoliosis

PART VII: ENVIRONMENTAL LUNG DISEASES

Interstitial Lung Diseases

PART VIII: NEOPLASTIC DISEASE

Cancer of the Lung

PART IX: DIFFUSE ALVEOLAR DISEASE

Acute Respiratory Distress Syndrome

PART X: NEUROLOGIC DISORDERS AND SLEEP APNEA

Guillain-Barré Syndrome

Myasthenia Gravis

Sleep Apnea

PART XI: NEWBORN AND EARLY CHILDHOOD RESPIRATORY DISORDERS

Clinical Manifestations Common with Newborn and Early Childhood Respiratory Disorders

Meconium Aspiration Syndrome

Transient Tachypnea of the Newborn

Idiopathic (Infant) Respiratory Distress Syndrome

Pulmonary Air Leak Syndromes

Respiratory Syncytial Virus (Bronchiolitis or Pneumonitis)

Bronchopulmonary Dysplasia

Diaphragmatic Hernia

Croup Syndrome: Laryngotracheobronchitis and Acute Epiglottis

PART XII: OTHER IMPORTANT TOPICS

Near Drowning

Smoke Inhalation and Thermal Injuries

Postoperative Atelectasis

References

Appendices

Glossary

Terry Des Jardins, MEd, RRT, Director, Professor Emeritus, Department of Respiratory Care, Parkland College, Champaign, Illinois.