Handbook of MRI Scanning - Elsevier eBook on VitalSource (Retail Access Card)
,
Elsevier eBook on VitalSource - Access Card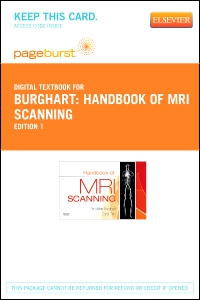 Or $0.00 with a valid access code
Free Shipping!
This item has low stock levels and may be back-ordered. We'll let you know if it is back-ordered, and you will not be charged until the item ships.
Ensure high-quality diagnostic images with this practical scanning reference! Designed to help you plan and acquire MRI images, Handbook of MRI Scanning, by Geraldine Burghart and Carol Ann Finn, includes the step-by-step scanning protocols you need to produce optimal images. Coverage of all body regions prepares you to perform virtually any scan. Going beyond the referencing and recognition of three-plane, cross-sectional anatomy, each chapter demonstrates appropriate slice placements, typical midline images of each plane, and detailed line drawings of the pertinent anatomy corresponding to the midline images. With this handbook, you can conceptualize an entire scan and its intended outcome prior to performing the scan on a patient. Keep the book at your console -- it's ideal for quick reference!
Consistent, clinically based layout of the sections makes scanning information easy to use with three images per page to demonstrate clinical sequences in MRI examinations.
Handy, pocket size offers easy, immediate access right at the console.
600 images provide multiple views and superb anatomic detail.
Suggested technical parameters are provided in convenient tables for quick reference with space to write in site-specific protocols or equipment variations.

BRAIN

Routine

Intra-Auditory Canals (IAC)

Multiple Sclerosis (MS)

Seizure

Pituitary

Orbits/Optic Nerve

Temporomandibular Joints (TMJ)

Spectoscopy

MRA – Circle of Willis

MRV – Sagittal Sinus

SPINE

C-spine

Routine

MS – Multiple Sclerosis

Soft Tissue Neck

MRA – Carotid

T-Spine

Routine

Lumbar

Routine

Sacrum/Coccyx

Sacroiliac

Pelvis

Routine bony pelvis

Female Pelvis – Uterus

Male Pelvis – Prostate

Prostate spectroscopy

UPPER EXTREMITIES

Shoulder

Humerus

Elbow

Forearm

Wrist

Hand

LOWER EXTREMITIES

Hip

Bilateral

Unilateral

Femur

Knee

Tibia

Ankle

Foot

THORAX

Heart/Aorta

Bracheal Plexis

Breast

Bilateral

Unilateral

MRA chest

ABDOMEN

Liver

MR Cholangeographic Pancreotography (MRCP)

Kidneys

Adrenal Glands

MRA – Renal Arteries

MR Angiography

Run-off

Geraldine Burghart, MA, RT(R)(MR)(M), Associate Professor, Radiologic Technology Program, Department of Nursing and Allied Health Sciences, City University of New York, BCC, Bronx, New York and Carol Ann Finn, RT(R)(MR), Manager, MRI Department, New York Presbyterian Hospital, Columbia Campus, New York, New York