Evidence-Based Management of Low Back Pain - Elsevier eBook on VitalSource (Retail Access Card)
,
Elsevier eBook on VitalSource - Access Card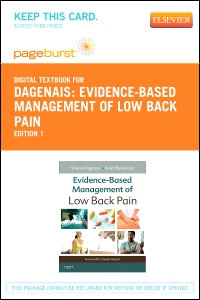 Or $0.00 with a valid access code
Free Shipping!
This item has low stock levels and may be back-ordered. We'll let you know if it is back-ordered, and you will not be charged until the item ships.
Covering all commonly used interventions for acute and chronic low back pain conditions, Evidence-Based Management of Low Back Pain consolidates current scientific studies and research evidence into a single, practical resource. Its multidisciplinary approach covers a wide scope of treatments from manual therapies to medical interventions to surgery, organizing interventions from least to most invasive. Editors Simon Dagenais and Scott Haldeman, along with expert contributors from a variety of clinical and academic institutions throughout the world, focus on the best available scientific evidence, summarizing the results from the strongest to the weakest types of studies. No other book makes it so easy to compare the different interventions and treatment approaches, giving you the tools to make better, more informed clinical decisions.
A multidisciplinary approach covers treatments from manual therapies to medical interventions to surgery, and many others in between.
An interdisciplinary approach enables health care providers to work together.
A logical, easy-to-follow organization covers information by intervention type, from least invasive to most invasive.
Integration of interventions provides information in a clinically useful way, so it's easier to consider more than one type of treatment or intervention for low back pain, and easier to see which methods should be tried first.
155 illustrations include x-rays, photos, and drawings.
Tables and boxes summarize key information.
Evidence-based content allows you to make clinical decisions based on the ranking the best available scientific studies from strongest to weakest.
Patient history and examination chapters help in assessing the patient's condition and in ruling out serious pathology before making decisions about specific interventions.
Experienced editors and contributors are proven authors, researchers, and teachers, and practitioners, well known in the areas of orthopedics, pain management, chiropractic, physical therapy, and behavioral medicine as well as complementary and alternative medicine; the book's contributors include some of the leading clinical and research experts in the field of low back pain.
Coverage based on The Spine Journal special issue on low back pain ensures that topics are relevant and up to date.
A systematic review of interventions for low back pain includes these categories: patient education, exercise and rehabilitation, medications, manual therapy, physical modalities, complementary and alternative medicine, behavioral modification, injections, minimally invasive procedures, and surgery.
Surgical interventions include decompression, fusion, disc arthroplasty, and dynamic stabilization.
Additional coverage includes patient education and multidisciplinary rehabilitation.

Foreword by Charles Branch, MD Preface Contributors Section 1: Introduction 1. Evidence-Based Management of Low Back Pain 2. Guide to Using This Textbook 3. Assessment of Low Back Pain 4. Management of Acute Low Back Pain Section 2: Education 5. Physical Activity, Smoking Cessation, and Weight Loss 6. Watchful Waiting and Brief Education 7. Back Schools and Fear Avoidance Training Section 3: Exercise 8. Lumbar Stabilization Exercise 9. Lumbar Strengthening Exercise 10. McKenzie Method Section 4: Medication 11. Common Analgesics 12. Opioid Analgesics 13. Adjunctive Analgesics Section 5: Physical Modalities 14. Electrotherapeutic Modalities and Physical Agents 15. Traction Therapy Section 6: Manual Therapies 16. Massage Therapy 17. Spinal Manipulation and Mobilization 18. Medicine Assisted Manipulation Section 7: Complementary and Alternative Medical Therapies 19. Nutritional, Herbal, and Homeopathic Supplements 20. Needle Acupuncture Section 8: Behavioral Therapies 21. Cognitive Behavioral Therapy 22. Functional Restoration Section 9: Injection Therapies 23. Epidural Steroid Injections 24. Trigger Point Injections 25. Prolotherapy Section 10: Minimally Invasive Therapies 26. Lumbar Medial Branch Neurotomy 27. Intradiscal Thermal Therapies 28. Nucleoplasty Section 11: Surgical Therapies 29. Decompression Surgery 30. Fusion Surgery and Disc Arthroplasty Conclusion Back Matter Glossary Answer Key Index

Simon Dagenais, CD, PhD, Division of Orthopaedic Surgery and Department of Epidemiology and Community Medicine, University of Ottawa, Ottawa, Ontario, Canada, Department of Social and Preventive Medicine, University at Buffalo; Buffalo, NY and Scott Haldeman, DC, MD, PhD, Department of Neurology, University of California, Irvine, Irvine, CA, Department of Epidemiology, University of California, Los Angeles, Los Angles, CA, Southern California University of Health Sciences, Whittier, CA