Clinical Veterinary Language - Elsevier eBook on VitalSource
,
Elsevier eBook on VitalSource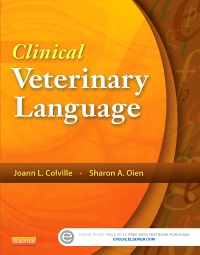 Or $0.00 with a valid access code
Clinical Veterinary Language emphasizes learning and understanding veterinary language, rather than focusing primarily on anatomy and physiology. Case studies, pronunciation guides, and word-building exercises clarify word parts and concepts to help you master word meanings and the way words are built. This practical resource provides the tools you need to communicate effectively in any veterinary setting.
Clinically focused chapters with case studies and medical reports provide you with the opportunity to apply your vocabulary knowledge.
Fill-in-the-blanks, Matching, Define the Word exercises, and more in every chapter offer vocabulary-building skills practice.
Quick Tips, Watch Out! and Interesting Word Origins boxes highlight key concepts and make learning vocabulary fun.
Objectives, key terms, outlines, chapter introductions, and key points help you prioritize information to ensure you understand what is most important in every chapter.

SECTION I: Understanding Veterinary Medical Language

Getting to Know Your Patients
Assembling Framework
Looking at the Entire Body

SECTION II: Building a Clinical Veterinary Language

The Integumentary System
The Skeletal System
The Muscular System
The Cardiovascular System
Blood and Lymph
The Respiratory System
The Digestive System
The Nervous System
The Senses
The Endocrine System
The Urinary System
The Reproductive System

Appendices

List of Abbreviations and their Chapter Number

Word Part Index by Chapter

Word Part Index with Pronunciations

Terms that Defy Word Analysis

Joann Colville, DVM, North Dakota State University, Fargo, ND, USA and Sharon Oien, MT(ASCP)NM