Pediatric Physical Examination
,2nd Edition
Spiral Bound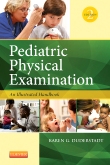 Free Shipping!
This item has low stock levels and may be back-ordered. We'll let you know if it is back-ordered, and you will not be charged until the item ships.
"This handbook serves the needs of undergraduate medical students ,nursing students and is good refresher for Pediatric post graduates." Reviewed by: Neel Kamal, Date: Aug. 14
This portable, photo-rich guide to physical examination for Nurse Practitioners and other primary care providers will help you develop the unique range of skills required to assess children of all ages. System chapters begin with embryological development and review the key developmental stages of childhood. For infants and young children, this step-by-step guide uses the "quiet-to-active" approach favored by pediatric experts and considered more effective for this age-group than the traditional head-to-toe approach used for adults. Other key topics include pediatric mental health assessment and growth and development screening and surveillance.
Uses the quiet-to-active approach to the examination of infants and young children, starting with listening and moving on to touching, the pediatric assessment approach that yields the best results in this age group.
More than 300 photos and line drawings facilitate learning and familiarize you with common assessment findings.
Information Gathering tables highlight questions and data needed from the patient/guardian, with questions conveniently separated by age group, to help you take an accurate history.
Charting examples show you how to record physical examination findings in the health record and acquaint you with documentation language and format.
Pediatric Pearls highlight effective physical examination findings and techniques gleaned from actual practice.
Coverage of assessment of the preterm infant equips you with practical tools for assessing this unique pediatric population.
Full-color format facilitates readability and learning.
An easy-access two-column format provides quick access to concise information.
Spiral binding lets you lay the book flat or fold it back for easy visualization and quick reference in the clinical setting.

NEW! Expanded coverage of growth and development screening and surveillance reviews the methods and tools used for screening children for developmental delays and emotional and behavioral problems — one of the most challenging aspects of well-child care.
NEW! Expanded coverage of history-taking and charting, with special emphasis on electronic charting, dermatologic assessment of more darkly pigmented skin, and adolescent assessment, provides valuable, need-to-know information.
NEW! Expanded coverage of pediatric mental health assessment, including depression and anxiety, better equips you to assess for the 70% of adolescent mental health disorders that are thought to be unrecognized and untreated.
NEW! Family, Cultural, and Racial Considerations sections address the increasingly important areas of family and cultural assessment to prepare you for differences to anticipate when assessing children of different cultural or racial groups.
NEW! Enhanced illustration program featuring more than 50 new photos and illustrations better prepares you for clinical practice.
NEW Summary of Examination lists at the end of each examination chapter highlight key assessment points associated with each body system and serve as a convenient quick reference and learning aid.
NEW! Evidence-Based Practice Tips highlight useful research findings that guide you in your clinical practice.
NEW! New and updated content on congenital and acquired heart disease, disorders of sexual differentiation, and sports-related concussions, as well as updated autism screening guidelines and World Health Organization (WHO) growth charts, highlights important trends in pediatric primary care practice.
NEW! Improved Environmental Health History chapter, with new information on exposure to lead and endocrine-disrupting chemicals, culture-specific exposures, and diagnostic testing, addresses key toxicants and guides you in performing an environmental health screening history and establishing a risk profile for exposure to environmental pollutants.
NEW! Attractive new design improves readability and usability, as well as learning and reference value.

Unit I: General Assessment

Approach to Care and Assessment of Children and Adolescents
Assessment Parameters
Developmental Surveillance and Screening
Comprehensive Information Gathering
Environmental Health History

Unit II: System-Specific Assessment

Skin
Heart and Vascular System
Chest and Respiratory System
Head and Neck
Lymphatic System
Eyes
Ears
Nose, Mouth, and Throat
Abdomen and Rectum
Male Genitalia
Male and Female Breast
Female Genitalia
Musculoskeletal System
Neurological System

Unit III: Charting Pediatric Health Care Visits

Charting Pediatric Comprehensive and Symptom-Focused Health Care Visits

Appendixes

Appendix A Gender- and Age-Specific Growth Charts and Preterm Growth Chart

Appendix B Body Mass Index−for−Age Growth Charts

Appendix C Modified Checklist for Autism in Toddlers (M-CHAT)

Appendix D Pediatric Symptom Checklist

Appendix E Children with Special Health Care Needs (CSHCN) Screener

Appendix F Pediatric Environmental History

Appendix G Sports Concussion Assessment Tool 2 (SCAT 2)

Karen Duderstadt, RN, PhD, CPNP, PCNS, Clinical Professor, Department of Family Health Care Nursing, University of California - San Francisco; Pediatric Nurse Practitioner, Children's Health Center, San Francisco General Hospital, San Francisco, California