Evolve Resources for Polysomnography for Sleep Technologists, 1st Edition
Resources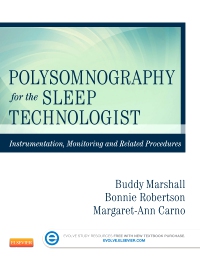 Free with purchase of new corresponding textbook
This product requires an instructor adoption and is not available for independent study.
The only sleep technology text written by experienced polysomnography educators, Polysomnography for the Sleep Technologist: Instrumentation, Monitoring, and Related Procedures covers the procedural knowledge you need to understand sleep studies. A sequential learning model systematically covers electronics, instrumentation, recording parameters, data acquisition, ancillary equipment, troubleshooting, recording quality, infection control, basic positive pressure therapy, and cardiopulmonary monitoring and intervention essential to polysomnography.
Duration for access to this product, which may be at the discretion of your institution, is up to 36 months. Elsevier reserves the right to restrict or remove access due to changes in product portfolio or other market conditions.
Bonnie Robertson, AAHA, CRT, RPSGT, President, Robertson Sleep Medicine Consulting, St. Francis Hospitals, Indianapolis, IN, USA, Buddy Marshall, MEd, CRT-SDS, RST, RPSGT, Sleep Technology Program Director, Baptist Health Schools Little Rock, Little Rock, AR , USA and Margaret-Ann Carno, PhD, MBA, CPNP, D, ABSM, FNAP, Assistant Professor of Clinical Nursing and Pediatrics, University of Rochester, Rochester, NY, USA