Evolve Resources for Illustrated Study Guide for the NCLEX-RN® Exam
,7th Edition
Resources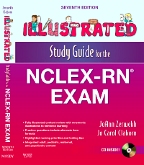 Or $0.00 with a valid access code
Free with corresponding textbook
Student Evolve Resources
Contains all review questions from the text plus additional questions for a total of 2,020 questions.
Includes all alternate item formats including multiple response, prioritizing [ordered response], fill-in-the-blank, figure/illustration (hot spot), and chart/exhibit questions.
Allows students to practice using three modes: Study, in which students receive immediate feedback on their responses; Quiz, a 10-question test that provides test results at the end of the quiz; and Exam, a 100-question test that provides results at the end of the exam.
Allows students to print test results to hand in for class assignments.
Allows questions to be selected from specific content areas.
Includes drop-down calculator for answering questions that require medical calculation.
JoAnn Zerwekh, MSN, EdD, RN, President/CEO, Nursing Education Consultants, Chandler, AZ; Nursing Faculty - Online Campus, University of Phoenix, Phoenix, AZ and Jo Carol Claborn, MS, RN, Nurse Educator, Seymour, Texas