Nutrition Concepts Online for Williams' Basic Nutrition and Diet Therapy, 14th Edition
Online Course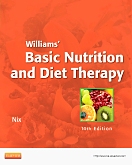 Or $0.00 with a valid access code
Deepen your understanding of the most important nutrition concepts with this dynamic online course. Used in conjunction with Nix: Williams' Basic Nutrition & Diet Therapy, 13th Edition, Nutrition Concepts Online integrates illustrations, animations, interactive exercises, and quizzes to reinforce your comprehension and provide an exciting, interactive learning experience.
Duration for access to this product is for the life of the edition.
Some content has been removed from this site because Flash is no longer supported on web browsers.
Modular format enables you to supplement your learning with online lessons or work at your own pace.
Learning objectives help you focus your study on the most important concepts.
Reading assignments highlight textbook material and provide related questions to help you read and review more efficiently.
Hundreds of interactive exercises provide an engaging way to learn core topics with immediate feedback that helps you identify areas needing additional study.
Animations bring nutrition concepts to life with visual instructions or explanations of a process or system, such as digestion.
A case study at the beginning of each module challenges you to work through a realistic situation that relates to the module content.
Quizzes evaluate your understanding of all the major topics covered in a particular lesson.
Access to the new online version of Nutritrac Nutrition Analysis 5.0 offers a nutrition and weight management program that provides additional tools for learning with an expanded food database of over 5,000 foods in 18 different categories and a listing of more than 150 activities.

Versatile modular format allows for learning online, in classrooms or in blended learning environments.
Web based research activities and exercises provide engaging ways to learn core topics with immediate feedback to help students identify areas needing additional study.
Case studies accompany modules challenging students to work through a realistic situation relating to module content.
Discussion boards for students and instructors keep learning on track

Nutrition in Wellness & Health Promotion Minerals Dietary Guidelines Energy Balance Body Composition Carbohydrates Physical Fitness & Exercise Digestion & Metabolism Fluids & Electrolytes Lipids Pregnancy & Lactation\ Protein Nutrition during Infancy, Childhood, and Adolescence Vitamins GI Disorders Nutrition in Adulthood Disorders of the Accessory Organs Community Nutrition Diabetes Foodborne Illness Cardiovascular Disease Kidney Disease Malnutrition Cancer & AIDS Culture & Religion Enteral & Parenteral

Staci Nix McIntosh, MS, RD, CD, Assistant Professor, Division of Nutrition, College of Health, University of Utah, Salt Lake City, UT