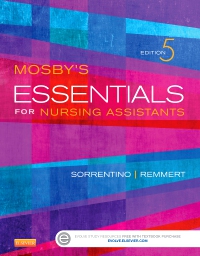 Mosby's Essentials for Nursing Assistants
, 5th Edition
Paperback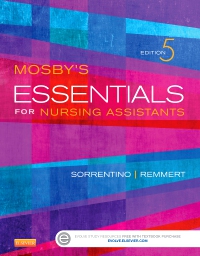 This item has low stock levels and may be back-ordered. We'll let you know if it is back-ordered, and you will not be charged until the item ships.
Designed for shorter programs of 85 hours or fewer, Mosby's Essentials for Nursing Assistants, 5th Edition provides coverage of the concepts and skills that are essential for becoming a nursing assistant. With focus on quality of life in the patient/person and self-pride in the nursing assistant this concise text emphasizes the importance of treating residents with respect while providing safe, competent, and efficient care.
Delegation Guidelines identify the nursing assistant's specific responsibilities in accepting commonly delegated tasks.
Promoting Safety and Comfort boxes highlight important considerations for providing safe and effective care while promoting patient comfort.
Procedures boxes are divided into step-by-step format with instructions for performing each skill, including Quality of Life courtesies, Pre-procedure, Procedure, and Post-Procedure sections to make learning critical skills easier.
Focus on PRIDE boxes highlight personal and professional responsibility, rights and respect, independence and social interaction, delegation and teamwork, and ethics and laws, encouraging you to promote pride in the person, family, and yourself.
Quality of Life reminders in the procedure boxes reinforce the simple courtesies that should be afforded to all patients, demonstrating how to show respect for the patient as a person.
NNAAP in the Procedure Title Bar alerts you to skills that are part of the National Nurse Aide Assessment Program.
Concise coverage of nursing assistant content that's ideal and easy to use in classes with shorter hour requirements.
Detailed illustrations offer step-by-step visual guidelines for performing key procedures.

NEW! Focus on Surveys boxes with common survey questions emphasize the nursing assistant's role in providing safe and effective care.
NEW! Focus on Practice boxes at the end of each chapter present short case scenarios with questions so you can consider practical applications for providing patient care.
NEW! The Person's Rights chapter highlights the importance of understanding and protecting a patient's rights.
NEW! Pressure Ulcers chapter familiarizes you with the risk factors of pressure ulcers and the information to identify individuals at risk.
NEW! Laminated, pocket-sized reference cards include information on vital signs, measurement conversions, range-of-motion, abbreviations, positioning, and the 24-hour clock for easy access to information critical in providing safe and effective care.
NEW! Updated Companion CD has 28 procedures, including 3 new procedures, containing interactive learning exercises, an updated audio glossary, a new Spanish audio glossary, and Body Spectrum (an anatomy and physiology program) providing you with additional tools for independent learning that reinforces textbook content.

1. Introduction to Hospitals and Nursing Centers

2. The Person's Rights NEW

3. The Nursing Assistant

4. Work Ethics

5. Communicating with the Health Team

6. Understanding the Person

7. Body Structure and Function

8. Caring for the Older Person

9. Assisting with Safety

10. Assisting with Fall Prevention

11. Assisting with Restraint Alternatives and Safe Restraint Use

12. Preventing Infection

13. Body Mechanics

14. Assisting with Moving and Transferring

15. Assisting With Comfort

16. Assisting With Hygiene

17. Assisting With Grooming

18. Assisting With Urinary Elimination

19. Assisting With Bowel Elimination

20. Assisting With Nutrition and Fluids

21. Assisting With Assessment

22. Assisting With Specimens

23. Assisting With Exercise and Activity

24. Assisting With Wound Care

25. Assisting with Pressure Ulcers NEW

26. Assisting With Oxygen Needs

27. Assisting With Rehabilitation and Restorative Care

28. Caring for Persons With Common Health Problems

29. Caring for Persons With Mental Health Problems

30. Caring for Persons With Confusion and Dementia

31. Assisting With Emergency Care

32. Assisting with End-of-Life Care

Sheila A. Sorrentino, PhD, RN, Curriculum and Health Care Consultant, Anthem, AZ and Leighann Remmert, MS, RN, Clinical Instructor, Capital Area School of Practical Nursing, Springfield, IL
This item has low stock levels and may be back-ordered. We'll let you know if it is back-ordered, and you will not be charged until the item ships.