Massage Online (MO) for Fritz Essential Sciences for Therapeutic Massage (Access Code)
,4th Edition
Online Course - Access Card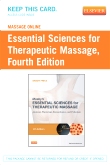 Perfect your understanding of the anatomy and physiology concepts in Fritz: Essential Sciences for Therapeutic Massage, 3rd Edition with Massage Online! This engaging, easy-to-follow course combines complete coverage of essential scientific principles with dynamic video, animations, and exercises to create a fully interactive learning experience that helps you prepare for success in massage practice.
Learning modules reinforce textbook content chapter-by-chapter.
Massage Application icons and dynamic slide shows illustrate therapeutic applications of scientific principles.
Identification and labeling, sequencing, and multiple-select exercises enable you to learn interactively.
Video clips and A&P animations make complex concepts more approachable and understandable.
Case studies strengthen your critical thinking skills and challenge you to apply your understanding to scenarios you may encounter in practice.
High-quality illustrations clarify key anatomy, physiology, biomechanics, and pathology content.
Module Objective content outlines and a user-friendly design ensure easy navigation and efficient learning.