Essentials of the Human Brain - Elsevier eBook on VitalSource (Retail Access Card)
,
Elsevier eBook on VitalSource - Access Card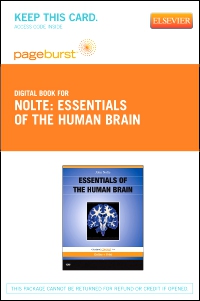 Or $0.00 with a valid access code
Free Shipping!
This item has low stock levels and may be back-ordered. We'll let you know if it is back-ordered, and you will not be charged until the item ships.
Master neurology with the help of Jack Nolte, PhD, recognized for his skill in communicating complicated neuroscience concepts. This book's clear narrative style and review questions allow you to test and verify your knowledge. The short length, full-color illustrations, and brain images make learning quick and easy. Multiple-choice and comprehensive review questions, as well as blank diagrams you can use for labeling practice, help you study and reinforce what you have learned. This easy-to-read text, coupled with Student Consult online access, gives you an excellent overview of neuroscience and neuroanatomy for effective understanding of key information in studying and reviewing for exams.
Provides the appropriate level of information to take the anxiety out of a complex subject.
Offers an added level of understanding though explanatory color illustrations and brain images that visually depict structure-function relationships and key neuroscience concepts.
Includes multiple-choice and comprehensive review questions with explanations that cover the core topics in the book so you can test and develop your knowledge.
Features the entire searchable contents of the text online, as well as all review tools, via Student Access.

Chapter 1 Introduction to the Nervous System

Chapter 2 Development of the Nervous System

Chapter 3 Gross Anatomy and General Organization of the Central Nervous System

Chapter 4 Meningeal Coverings of the Brain and Spinal Cord

Chapter 5 Ventricles and Cerebrospinal Fluid

Chapter 6 Blood Supply of the Brain

Chapter 7 Electrical Signaling by Neurons

Chapter 8 Synaptic Transmission between Neurons

Chapter 9 Sensory Receptors and the Peripheral Nervous System

Chapter 10 Spinal Cord

Chapter 11 Organization of the Brainstem

Chapter 12 Cranial Nerves and Their Nuclei

Chapter 13 The Chemical Senses of Taste and Smell

Chapter 14 Hearing and Balance: The Eighth Cranial Nerve

Chapter 15 Brainstem Summary

Chapter 16 The Thalamus and Internal Capsule: Getting To and From the Cerebral Cortex

Chapter 17 The Visual System

Chapter 18 Overview of Motor Systems

Chapter 19 Basal Ganglia

Chapter 20 Cerebellum

Chapter 21 Control of Eye Movements

Chapter 22 Cerebral Cortex

Chapter 23 Drives and Emotions: The Hypothalamus and Limbic System

Chapter 24 Formation, Modification, and Repair of Neuronal Connections

Appendix 1 Comprehensive Quiz

Appendix 2 Answers

Appendix 3 Blank Drawings

John Nolte, PhD
PhD, Division of Academic Resources, University of Arizona College of Medicine, Tucson, AZ
Professor of Cell Biology and Anatomy, The University of Arizona College of Medicine, Tucson, AZ