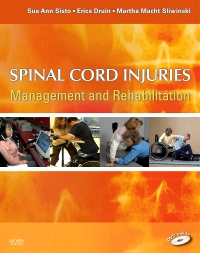 Publication Date:
01-31-2008
Spinal Cord Injuries - Elsevier eBook on VitalSource, 1st Edition
Elsevier eBook on VitalSource
Publication Date:
01-31-2008
Or $0.00 with a valid access code
From a hospital admittance to discharge to outpatient rehabilitation, Spinal Cord Injuries addresses the wide spectrum of rehabilitation interventions and administrative and clinical issues specific to patients with spinal cord injuries. Comprehensive coverage includes costs, life expectancies, acute care, respiratory care, documentation, goal setting, clinical treatment, complications, and activities of daily living associated with spinal cord patients. In addition to physical therapy interventions and family education components, this resource includes content on incidence, etiology, diagnosis, and clinical features of spinal cord injury.
Case Studies with clinical application thinking exercises help you apply knowledge from the book to real life situations.
Thoroughly referenced, evidence-based content provides the best evidence for treatment based on the most current research.
Tables and boxes throughout each chapter organize and summarize important information for quick reference.
Clinical Note boxes provide at-a-glance access to helpful tips.
Over 500 clinical photos, line drawings, radiographs, and more bring important concepts to life.
Highly respected experts in spinal cord injury rehabilitation, editors Sue Ann Sisto, Erica Druin, and Martha Sliwinski, provide authoritative guidance on the foundations and principles of practice for spinal cord injury.
Companion DVD includes video clips of the techniques described throughout the book that demonstrate how to apply key concepts to practice.

Introduction: Profiles in Courage and Hope

1. Understanding Spinal Cord Injury and Advances in Recovery

2. Medical Management and Complications of Spinal Cord Injury

3. Nursing Care and Education for Patients with Spinal Cord Injury

4. Respiratory Treatment and Equipment

5. Psychological Adjustments to Spinal Cord Injury

6. Evaluation

7. Intervention Principles and Position Changes

8. Transfer Techniques

9. Activities of Daily Living

10. Management of the Upper Limb in Individuals with Tetraplegia

11. Seating and Positioning

12. Assessment and Match for Effective Assistive Technology

13. Using Assistive Technology

14. Accessible Home Modification and Durable Medical Equipment

15. Wheelchair Skills

16. Ambulation

17. Functional Electrical Stimulation

18. Exercise and Fitness with Spinal Cord Injury

19. Sports and Recreation for People with Spinal Cord Injury

20. Wheel Chair Transportation and Safety

21. Transportation and Community Access

22. Functional and Psychosocial Aspects of Aging with SCI

23. Quality of Life After Spinal Cord Injury

Sue Ann Sisto, PT, MA, PhD, Distinguished Professor and Research Director, Division of Rehabilitation Science, Stony Brook University, Stony Brook, NY; Research Scientist III, Human Performance and Movement Analysis Laboratory, Kessler Medical Rehabilitation Research and Education Center, West Orange, NJ; Associate Professor of Physical Medicine and Rehabilitation, Clinical Assistant Professor, School of Health Related Professions, University of Medicine and Dentistry of New Jersey-New Jersey Medical School, Newark, NJ, Erica Druin, MPT, Clinical Specialist, Adventist Rehabilitation Hospital of Maryland, Rockville, MD and Martha Macht Sliwinski, PT, MA, PhD, Assistant Professor of Clinical Physical Therapy, Columbia University, New York, NY