Sports & Exercise Massage - Elsevier eBook on VitalSource
,
Elsevier eBook on VitalSource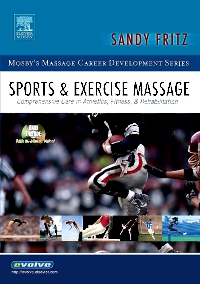 Or $0.00 with a valid access code
The competitive athlete, whether amateur or professional, presents specific challenges to the massage therapist. To treat these individuals, the therapist should have a background in sport specific activities, be aware of the effects of training, and understand injury types and rehabilitation applications. This text describes patterns for sport activities (like running, throwing, impact, and repetitive use) and provides guidelines for applying massage to specific sports. Because athletes depend on highly coordinated neuromuscular activity, assessment and massage applications that address these physiologic mechanisms are covered in depth.
Comprehensive text covers all the essentials of sports and exercise massage making it the sole resource needed for massage therapists interested in specializing in sports massage.
450 full-color illustrations accompany procedures, concepts and techniques to enhance understanding and comprehension of each topic.
Provides information for both assessment and management of connective tissue dysfunction.
Covers general nutrition for fitness, with material on supplements and banned substances for athletes.
Includes Autonomic Nervous System functions as well as fluid dynamics in circulation.
Each chapter contains chapter outlines, chapter objectives, key terms, summaries, practical applications, and workbook review questions, so the instructor can build lesson plans off of this pedagogy, and the student can comprehend the information more thoroughly by completing all of the exercises.
Included with the book is a DVD containing almost 2 hours of video showing the specific applications described in the book.
Case studies integrate information and touch upon the family and social support of athletes.

Foreword
Preface
Unit I – Theory and Application of Fitness and Athletic Performance
1. The World of Sports and Fitness Massage
2. What is Sports Massage?
3. Scientific Validation of Sports Massage Benefits
4. Relevant Anatomy and Physiology
5. Fitness First
6. Sport Specific Movement Performance
7. Nutritional Support and Banned Substances
8. Influences of the Mind and Body
Unit II – Sports Massage, Theory and Application
9. Physiologic Mechanisms of Massage Benefits
10. Indications and Contraindications for Massage
11. Assessment for Sports Massage and Physical Rehabilitation Application
12. Review of Massage Methods
13. Focused Massage Application
14. General Massage Protocol
15. Unique Circumstances and Adjunct Therapies
Unit III – Sport Injury
16. Injury in General
17. Pain
18. General Categories of Injury and Dysfunction
19. Medical Treatment for Injury
20. Systemic Illness and Immunity
21. Injuries by Area
Section IV
22. Case Studies
Glossary
Index

Sandy Fritz, BS, MS, NCTMB, Director, Health Enrichment Center, School of Therapeutic Massage, Lapeer, Michigan, USA
Director