Postsurgical Rehabilitation Guidelines for the Orthopedic Clinician - Elsevier eBook on VitalSource
,
Elsevier eBook on VitalSource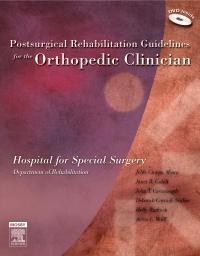 Or $0.00 with a valid access code
Designed to help therapists provide post-surgical rehabilitation based on best practices and evidence-based research, this comprehensive reference presents effective guidelines for postsurgical rehabilitation interventions. Its authoritative material is drawn from the most current literature in the field as well as contributions from expert physical therapists, occupational therapists, and athletic trainers affiliated with the Hospital for Special Surgery (HSS). A DVD accompanies the book, featuring over 60 minutes of video of patients demonstrating various therapeutic exercises spanning the different phases of postsurgical rehabilitation. Examples include hand therapy procedures, working with post-surgical patients with cerebral palsy, sports patient injuries, and pediatric procedures for disorders such as torticollis.
Material represents the best practices of experts with the Hospital of Special Surgery, one of the best known and most respected orthopedic hospitals.
Phases of treatment are defined in tables to clearly show goals, precautions, treatment strategies and criteria for surgery.
Many of the treatment strategies are shown in videos on the accompanying DVD, enabling the user to watch the procedure that is discussed in the text.
Information on pediatric and geriatric patients explores differing strategies for treating these populations.
Treatments specific to sports injuries are presented, highlighting the different rehabilitation procedures available for athletes.
An entire section on hand rehabilitation provides the latest information for hand specialists.
Information on the latest treatment strategies for hip replacement presents complete information on one of the most common procedures.
Easy-to-follow guidelines enable practitioners to look up a procedure and quickly see the recommended rehabilitation strategy.
A troubleshooting section provides solutions for common problems that may occur following each phase of the rehabilitation process.
Broad coverage addresses both traditional techniques as well as newer methods in a single resource.
Clear photos and illustrations show how to correctly perform the techniques described in the book.

1. Total Hip Arthroplasty

2. Total Knee Arthroplasty

3. Total Shoulder Arthroplasty

4. Total Elbow Arthroplasty

5. Metacarpophalangeal Joint Arthroplasty

6. Hip Fractures

7. Elbow Fractures and Dislocations

8. Radial Head Replacements

9. Contracture Release of the Elbow

10. Hinged Dynamic External Fixation of the Elbow

11. Distal Radial Fractures

12. Schaphoid Fracture

13. Phalangeal and Metacarpal Fractures

14. Flexor Tendon Repairs

15. Extensor Tendon Repairs

16. Flexor Tenolysis

17. Upper Extremity Sugical Intervention in Patients with Cerebral Palsy: Musculotendinous Procedures

18. Ulnar Nerve Transposition

19. Thumb Carpometacarpal Joint Arthroplasty

20. Ulnar Collateral Ligament Repair

21. Volar Plate Arthroplasty

22. PIP Joint Replacement

23. Dynamic External Fixation of the PIP Joint

24. Dupuytren's Fascietomy

25. Lower Extremity Surgical Intervention in Patients with Cerebral Palsy: Bone and Musculotendinous Procedures

26. Spinal Fusion in Adolescent Idiopathic Scoliosis

27. Congential Muscular Torticollis

28. Lumbar Microdiscetomy

29. Rehabilitation for Osteoporosis

30. Adult Lumbar Fusion

31. Hip Arthroscopy

32. Rehabilitation following Microfracture Procedure of the Knee

33. Patella Tendon Repair

34. Proximal & Distal Realignment

35. Anterior Cruciate Ligament Reconstruction

36. Posterior Cruciate Ligament Reconstruction

37. Meniscal Repair/Transplantation

38. Rehabilitation following Achilles Tendon Repair

39. Lateral Ankle Reconstruction

40. Rotator Cuff Repair: Arthroscopic and Open

41. Sub-Acromial Decompression

42. Anterior Stabilization Surgery

43. Posterior Stabilization Surgery

44. SLAP Repair

45. UCL Reconstruction

HSS, JeMe Cioppa-Mosca, PT, MBA, Assistant Vice-President, Department of Rehabilitation, Hospital for Special Surgery, New York, NY, Janet B. Cahill, PT, CSCS, Section Manager, Inpatient Therapy, Department of Rehabilitation, Hospital for Special Surgery, New York, NY and Carmen Young Tucker, PT, BS, Director, Inpatient Division, Department of Rehabilitation, Hospital for Special Surgery, New York, NY