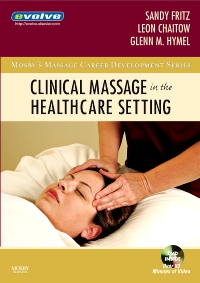 Publication Date:
12-11-2007
Clinical Massage in the Healthcare Setting - Elsevier eBook on VitalSource, 1st Edition
Elsevier eBook on VitalSource
Publication Date:
12-11-2007
Or $0.00 with a valid access code
Covering advanced massage therapy skills, this practical resource prepares you to work with medical professionals in a clinical setting, such as a hospital, hospice, long-term care, or other health-related practice. It discusses the many skills you need to succeed in this environment, helping you become a contributing member of an integrated team. Also covered are the essentials of clinical massage, such as indications and contraindications, review of massage methods, range of motion testing, SOAP note documentation, and a massage therapy general protocol. Case studies show how a multidisciplinary approach applies to real-world clients. By coordinating your work with other health professionals, you can enhance patient care in any clinical setting!
Includes a DVD with:

Two hours of video showing specific applications, featuring author Sandy Fritz.
A complete general protocol for massage.
State-of-the-art animations depicting biologic functions and medical procedures.

700 full-color illustrations accompany procedures, concepts, and techniques.
An integrated healthcare approach covers the healthcare environment and the skills necessary to be a contributing member of an integrated healthcare team.
A research-based focus emphasizes research, clinical reasoning, and outcome-based massage application — for effective massage application in conjunction with healthcare intervention.
A complete general protocol provides a guide to treating disorders and maintaining wellness, with recommendations for positioning and interventions, using a step-by-step sequence that can easily be modified to meet a patient's specific needs.
A palliative protocol helps you temporarily relieve a patient's symptoms of disorders or diseases.
Case studies focus on outcome-based massage for individuals with multiple health issues, detailing assessment, medical intervention, justification for massage, and session documentation.
Coverage of advanced massage therapy skills and decision-making skills includes specific themes for effective massage application, allowing you to consolidate massage treatment based on the main outcomes — useful when working with individuals with multiple pathologies or treatment needs.
A discussion of aromatherapy provides safe recommendations for the use of essential oils in conjunction with massage, to promote healing of the body and mind.
Descriptions of illness and injury include relevant anatomy/physiology/pathophysiology, as well as strategies and massage applications to use for pain management, immune support, stress management, chronic illness, and post-surgical needs.
Coverage of insurance and reimbursement issues relates to you as a massage professional.
Strategies for general conditions such as substance abuse, mental health, orthopedic injury, and cardiovascular disorders help you specialize in clinical massage.
Expert authors provide knowledge in research, massage therapy in healthcare, and manual therapies.
Learning resources include chapter outlines, chapter learning objectives, key terms, and workbook-style exercises.
A companion Evolve website includes:

PubMed links to research supporting best practices and justification for massage application.
More information on topics such as insurance, pharmacology, and nutrition.
More information on anatomy and physiology and other subjects.
A comprehensive glossary with key terms and some audio pronunciations.

Unit 1: The World of Healthcare

1. Massage and Healthcare: A Professional Perspective

2. Research Essentials for Massage in the Health Care Setting

3. The World of Healthcare

4. Preventive Medicine, Wellness, and Lifestyle

Unit 2: Therapeutic Massage Essentials

5. Indications and Contraindications

6. Pertinent Anatomy and Physiology Review

7. Sanitation

8. Review and Application of Massage

9. Assessment for Massage and Physical Healing and Rehabilitation Application

10. Focused Massage Application

11. General and Palliative Protocols

12. Unique Circumstances and Adjunct Therapies

Unit 3: Clinical Applications of Massage

13. Illness and Injury in General

14. General Massage Treatment for Predisposing and Perpetuating Factors and Symptom Management

15. Medical Treatment for Illness and Injury

16. Population Similarities in Healthcare

17. Common Categories of Illness, Injury, and Clinical Reasoning

Unit 4: Integration

18. Case Studies

Appendix: Protocols for Massage Therapy

Sandy Fritz, MS, NCTMB, Founder, Owner, Director, and Head Instructor, Health Enrichment Center, School of Therapeutic Massage and Bodywork, Lapeer, Michigan, Leon Chaitow, ND, DO (UK), Registered Osteopath and Naturopath; Honorary Fellow and Former Senior Lecturer, School of Life Sciences, University of Westminster, London, UK; Fellow, British Naturopathic Association.; Fellow, College of Osteopaths, UK and Glenn Hymel, EdD, LMT, Professor and Chair, Department of Psychology, Loyola University, New Orleans, LA