Mosby's Guide to Women's Health - Elsevier eBook on VitalSource
,
Elsevier eBook on VitalSource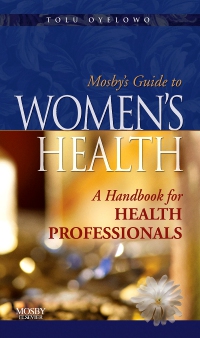 Or $0.00 with a valid access code
This essential clinical companion provides quick access to a wealth of information on effectively managing common women's health issues. It offers just the right level of coverage for health professionals, with concise, user-friendly protocols for diagnosing and treating a wide range of conditions. In addition to traditional medical information, this book also explores alternative natural treatment options such as physical therapy, nutrition, herbs, chiropractic, and naturopathic therapies.
A consistent format throughout makes it easy to quickly find key information.
Coverage of common conditions includes a description of the condition, causes, diagnostic procedures, signs/symptoms, traditional medical management, self-help treatments, dietary/nutritional management, adjunctive therapies, and chiropractic treatment options.
Features a section on general hormonal health that explores the role of estrogen and estrogen derivatives in maintaining health and predisposing to disease.
Addresses other factors impacting women's health such as culture, spirituality, and domestic violence.
Convenient pocket size makes this handbook ideal for use in the clinical setting.
Goes beyond reproductive issues to address the total health care needs of female patients.
A multidisciplinary editorial board provides a well-rounded perspective of women's health issues with just the right amount of information for health professionals.

1. Anatomy, Physiology and Neurology

2. Estrogen Concepts

3. Menstrual Cycle

4. Amenorrhea

5. Birth Control

6. Bladder Pain Syndrome (Interstitial Cystitis)

7. Breast Conditions

8. Cardiovascular Health

9. Coccydynia

10. Cultural Considerations

11. Diabetes

12. Domestic Violence

13. Dysmenorrhea

14. Dyspareunia

15. Endometriosis

16. Female Athlete Triad

17. Fibroids

18. Fibromyalgia

19. Incontinence

20. Infections

21. Infertility

22. Menopause

23. Menorrhagia

24. Osteoporosis

25. Pelvic Inflammatory Disease

26. Perimenopause

27. Polycystic Ovarian Syndrome

28. Pregnancy

29. Pregnancy — Labor and Delivery

30. Pregnancy — Post Partum

31. Premature Ovarian Failure

32. Premenstrual Syndrome (PMS)

33. Reproductive Tract Malignancies

34. Vulvodynia

35. Technique — Procedures

Tolu DC Oyelowo, DC, Associate Professor, Chair, Diversity Commission, Northwestern Health Sciences University, Bloomington, MN and Mosby