Mosby's Pharmacy Review for the NAPLEX - Elsevier eBook on VitalSource
,
Elsevier eBook on VitalSource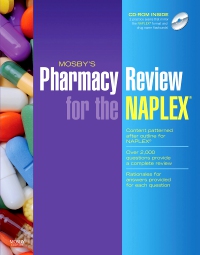 Or $0.00 with a valid access code
Prepare for NAPLEX® success on your first attempt! In this guide to the North American Pharmacy Licensure Examination, an outline format lets you review important test topics quickly and efficiently. Review questions cover areas such as the evaluation of patient conditions, communicating with the patient or healthcare professional, and preparing and dispensing medications safely and effectively. A companion CD lets you practice with two 185-question exams that mirror the NAPLEX®. Protect your investment in the NAPLEX® by using this unique review!
Over 2,000 review questions are included in the book and on the companion CD, with each including answers and rationales.
An outline format offers a focused, to-the-point yet comprehensive review.
Organization by NAPLEX® content provides an effective review, with content proportional to the content on the actual exam.
Patient-profile questions mirror those in the NAPLEX®, with each including a short scenario followed by multiple-choice questions.
Preparing for the NAPLEX® chapter covers registration, fees, test and question structure, information on score results, and test-taking strategies.
Up-to-date review includes the newest topics introduced by the NABP, such as Dietary Supplements, OTC products, and patient communication.
Convenient appendices summarize drug interactions, important in answering the exam's patient education questions.
Two practice exams on CD include 185 multiple-choice questions in each, with rationales for correct answers, and can be taken in exam or study mode.
Flashcards on CD provide an easy way to identify and review generic/brand-name drug products.

1. Preparing for the NAPLEX Part I: Pharmaceutical Practice 2. Pharmaceutical Calculations 3. Compounding 4. Drug Information Resources 5. Dispensing 6. Patient Education 7. Herbs and Dietary Supplements 8. Laboratory Tests Part II: Pharmacotherapy in Practice 9. Anti-infective agents 10. Cardiovascular disorders 11. Dermatologic disorders 12. Endocrine disorders 13. Gastrointestinal disorders 14. Geriatrics 15. HIV 16. Kidney disorders 17. Oncology 18. Pain Management 19. Psychiatric Disorders 20. Respiratory Disorders 21. Arthritis 22. Seizure Disorder 23. Women's Health 24. Immunology and Vaccines 25. Immunosuppressives Part III: Consumer-Directed Healthcare 26. Nonprescription Products 27. Nutrition Part IV: Miscellaneous Topics in Pharmacy Practice and Science 28. Basic pharmacokinetics 29. Pharmacogenomics 30. Toxicology Appendix A: Drug Interactions Appendix B: Federal Pharmacy Law Appendix C: Foreign Pharmacy Graduate Examination Answers and Rationales to Review Questions

Mosby