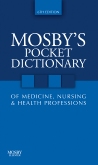 Mosby's Pocket Dictionary of Medicine, Nursing & Health Professions - Elsevier eBook on VitalSource
,6th Edition
Elsevier eBook on VitalSource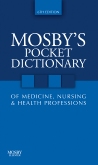 UNIQUE! Emphasis on nursing and health science terminology makes this the most useful pocket dictionary for students and practitioners in nursing and health professions.
Its small size makes it easy to transport, and the sturdy, flexible cover increases the durability.
The practical, straightforward alphabetical organization with no subentries and easy-to-use thumb tabs make it easy to find and understand information.
UNIQUE! A section on nursing diagnoses with entries for all NANDA-approved nursing diagnoses prepares you for real-world practice.
British spellings for selected entries help you recognize alternate spellings.
Etymologies aid your understanding of medical terminology and help you develop a professional vocabulary.
Pronunciations provided for key entries help you use terminology correctly in everyday practice.

Includes 38,700 definitions, with over 5,000 new and 25,000 revised definitions, to reflect the latest information in all areas of nursing, medicine, and health professions.
UNIQUE! Current definitions for all NANDA nursing diagnoses, NIC (Nursing Interventions Classifications) and NOC (Nursing Outcomes Classifications) ensure you have the most up-to-date information for clinical documentation, communication, and care evaluation.