Mosby's Guide to Physical Examination - Elsevier eBook on VitalSource, 7th Edition
Elsevier eBook on VitalSource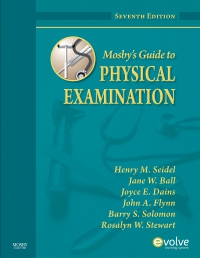 Or $0.00 with a valid access code
Mosby's Guide to Physical Examination is a comprehensive textbook of physical examination, history-taking, and health assessment with a unique emphasis on differential diagnosis and variations across the lifespan. The book conveys a uniquely compassionate, patient-centered approach to physical examination with a strong evidence-based foundation.
Clinical Pearls boxes give brief clinical insights with expert tips on techniques, findings, and patient teaching.
Mnemonic boxes deliver engaging auditory, visual, and other memory cues to help you remember series of assessment or exam steps.
Physical Variations boxes detail multicultural considerations for assessing patients from diverse ethnic and cultural groups.
Staying Well boxes describe holistic approaches to health promotion and patient teaching.
Risk Factors boxes highlight modifiable and nonmodifiable risk factors for a variety of conditions.
Differential Diagnosis boxes give comparisons of expected findings for similar conditions and explain how disease presentations vary.
Physical Examination boxes provide current data on the most effective techniques for delivering quality patient care.
Functional Assessment boxes focus on the patient's functional abilities and present a holistic approach to patient care.
Downloadable text and PDA summaries allow for quick review of the key steps in each system exam.
Dynamic learning exercises on the companion website test your knowledge and provide instant feedback on your progress.

Updates throughout reflect the latest research findings and evidence-based practice for techniques, normal and abnormal findings, genetics, and assessment.
60 video clips demonstrate exam techniques for each system and are downloadable for use on Video iPod devices.
25 new anatomy and physiology animations provide narrated explanations of processes beneath the skin.
New audio chapter summaries, downloadable for use on MP3 players, offer a convenient way to review key content on the go.
New 3-column tables featuring Pathophysiology, Subjective Data, and Objective Data provide an illustrated reference that allows for quick and accurate comparisons.
75 new illustrations and dozens of new photos of normal and abnormal findings help to clarify anatomic concepts and exam techniques.

Chapter 1: The History and Interviewing Process

Chapter 2: Cultural Awareness

Chapter 3: Examination Techniques and Equipment

Chapter 4: Mental Status

Chapter 5: Growth and Measurement

Chapter 6: Nutrition

Chapter 7: Assessment of Pain

Chapter 8: Skin, Hair, and Nails

Chapter 9: Lymphatic System

Chapter 10: Head and Neck

Chapter 11: Eyes

Chapter 12: Ears, Nose, and Throat

Chapter 13: Chest and Lungs

Chapter 14: Heart

Chapter 15: Blood Vessels

Chapter 16: Breasts and Axillae

Chapter 17: Abdomen

Chapter 18: Female Genitalia

Chapter 19: Male Genitalia

Chapter 20: Anus, Rectum, and Prostate

Chapter 21: Musculoskeletal System

Chapter 22: Neurologic System

Chapter 23: Sports Participation Evaluation

Chapter 24: Putting It All Together

Chapter 25: Taking the Next Steps: Critical Thinking

Chapter 26: Recording Information

Chapter 27: Emergency or Life-Threatening Situations

Appendix A: Growth Charts

- Preterm infant growth chart

-Boy – birth to 36 months

-Girl – birth to 36 months

-Boys – 2 to 20 years

-Girls – 2 to 20 years

Appendix B:

-Tables B-1 and B-2: Weight and Length Conversion Charts

-Table B-3: Body Mass Index (BMI)

Appendix C: Denver II Development Tool

Appendix D: Temperature Conversion Chart

Henry M. Seidel, MD, Professor Emeritus of Pediatrics, The Johns Hopkins University School of Medicine, Baltimore, MD, Rosalyn W. Stewart, MD, MS, MBA, Assistant Professor of Pediatrics and Medicine, Department of Internal Medicine and Pediatrics, The Johns Hopkins University, School of Medicine, Baltimore, MD, Jane W. Ball, RN, DrPH, CPNP, Trauma Systems Consultant, American College of Surgeons, Gaithersburg, MD, Joyce E. Dains, DrPH, JD, RN, FNP-BC, FNAP, FAANP, Associate Professor, Department of Nursing, The University of Texas; The University of Texas MD Anderson Cancer Center, Houston, Texas, John A. Flynn, MD, MBA, MEd, Professor of Medicine, Chief Physician and Dean for Clinical Affairs, and Director of the Faculty Practice Plan, The University of Chicago Medicine, Chicago, IL, Barry S. Solomon, MD, MPH, Assistant Professor of Pediatrics, Medical Director, Harriet Lane Clinic, Division of General Pediatrics and Adolescent Medicine, The Johns Hopkins University, School of Medicine, Baltimore, MD and Rosalyn W. Stewart, Assistant Professor of Pediatrics and Medicine. Department of Internal Medicine and Pediatrics. The Johns Hopkins University. School of Medicine
Baltimore, Maryland.