Mosby's Radiography Online: Sectional Anatomy for The Sectional Anatomy Learning System, 3rd Edition
,
Online Course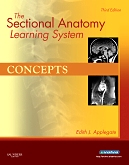 Or $0.00 with a valid access code
Offering dynamic online learning, this course covers sectional anatomy topics you must learn to meet ASRT requirements. It clearly demonstrates the sectional anatomy of the entire body, and includes high-quality, diagnostic images in both CT and MRI modalities. Engaging animations and slideshows help to communicate difficult concepts and enhance your understanding. This online resource supports the sectional anatomy content in many textbooks, including KELLEY: SECTIONAL ANATOMY FOR IMAGING PROFESSIONALS AND APPLEGATE: THE SECTIONAL ANATOMY LEARNING SYSTEM.
Unique outcome-based learning ensures that you meet ASRT learning objectives.
Animations and slideshows with audio narration communicate complex concepts that are impossible to convey with static illustrations.
A contemporary design makes content easy to read and the course easy to navigate.
Enlarged images appear in popup windows, making it easier to see detail in densely labeled illustrations and radiographic images.
Unique Learn More feature is included for some images, enhancing the study of sectional anatomy.
Unique summation screens provide review and remediation of content.
Unique section quizzes help you determine any additional study needs before taking the exam.
End-of-module exams offer excellent preparation for the accrediting exam.
Unique audio glossary makes it easy to listen to pronunciations of key sectional anatomy terms.
External links connect you to related websites for further research and study.

Module 1 Introduction to Sectional Anatomy

Module 2 Cranium and Facial Bones

Module 3 Brain

Module 4 Spine

Module 5 Neck

Module 6 Chest

Module 7 Abdomen

Module 8 Pelvis

Module 9 Upper Extremity Joints

Module 10 Lower Extremity Joints

Edith Applegate, MS, Professor of Sciences and Mathematics, Kettering College of Medical Arts, Kettering, OH