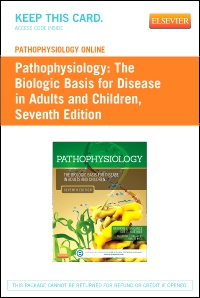 Pathophysiology Online for Pathophysiology, 7th Edition
Online Course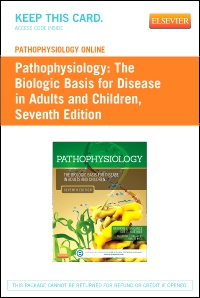 Or $0.00 with a valid access code
Pathophysiology Online is a collection of over 20 online modules developed by learning experts to boost your understanding of the most important and challenging concepts in pathophysiology. Designed to complement the McCance Pathophysiology 7th edition textbook, this unique course uses animations, interactive activities, case studies, alogrithms, and more to enhance your comprehension of pathophysiology.
Duration for access to this product, which may be at the discretion of your institution, is up to 36 months. Elsevier reserves the right to restrict or remove access due to changes in product portfolio or other market conditions.
Some content has been removed from this site because Flash is no longer supported on web browsers.
Enhances and supplements the textbook with online activities showing processes and concepts using animation, sound, and more.
Incorporates easy access to .PDF downloads of textbook pages for reading assignments.
NEW! A reorganized module that covers the Biology of Cancer and Tumor Spread in a condensed, easier to follow format.
Provides faculty with complete, professionally prepared, easy-to-use lessons ready for immediate use, saving valuable preparation time.
Includes hundreds of engaging activities and exercises to challenge students to think critically about key aspects of pathophysiology while making learning entertaining.
Includes over 80 specially created, narrated animations to help students visualize some of the most complex pathophysiologic processes.
Incorporates over 850 high-quality figures to illustrate tough concepts and key clinical presentations of disease processes for all body systems.
Features case studies throughout to encourage development of critical thinking skills and application of knowledge to real-world situations.
Provides a pre-test for every major body system to help students test their knowledge of normal structure and function before alterations in function are introduced.
Includes a comprehensive exam for every module that can be used as a self-assessment tool to help students prepare for in-class exams or can be reserved by instructors as graded assessments.
Provides rationales for both correct and incorrect responses to help students not only know when an answer is correct or incorrect, but why.
Gives students immediate feedback on all activities and assessments throughout, reinforcing learning and encouraging subject mastery.
Provides a glossary to give students quick, easy access to definitions of new and unfamiliar terms.
Provides carefully reviewed core topic resources, including websites, for further exploration, so students can focus on learning information, not searching for it.
Supports diverse learning styles with activities and content that use both voice-overs, narrations, on-screen text, and visual cues.

Altered Cellular and Tissue Biology

The Cellular Environment: Fluids and Electrolytes, Acids and Bases

Genes and Genetic Diseases

Innate Immunity

Adaptive Immunity

Alterations in Immunity and Inflammation

Infection

Biology of Cancer and Tumor Spread, Clinical Manifestations, and Treatment

Cancer Epidemiology

Disorders of Neurologic Function

Alterations of Hormonal Regulation

Alterations of the Reproductive System

Alterations of Erythrocyte Function

Alterations of Leukocyte, Lymphoid, and Hemostatic Function

Alterations of Cardiovascular Function (Parts I and II)

Alterations of Pulmonary Function

Alterations of Renal and Urinary Tract Function

Alterations of Digestive Function

Alterations of Musculoskeletal Function

Shock, Multiple Organ Dysfunction Syndrome, and Burns in Adults

Kathryn L. McCance, MS, PhD, Professor, College of Nursing, University of Utah, Salt Lake City, UT and Sue E. Huether, MS, PhD, Professor Emeritus, College of Nursing, University of Utah, Salt Lake City, UT
Or $0.00 with a valid access code