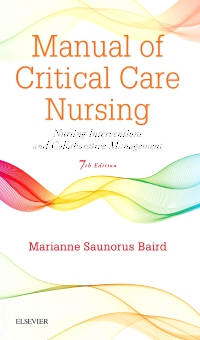 Publication Date:
10-01-2015
Manual of Critical Care Nursing - Elsevier eBook on VitalSource, 7th Edition
Elsevier eBook on VitalSource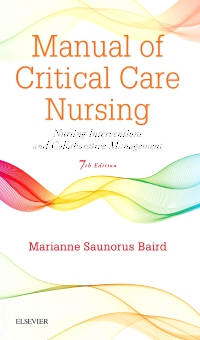 Publication Date:
10-01-2015
Or $0.00 with a valid access code
The compact, yet comprehensive, Manual of Critical Care Nursing: Nursing Interventions and Collaborative Management, 7th Edition is your students'a go-to reference forto help you provide safe, high-quality nursing care in the clinicalcritical care settings. Written in an abbreviated outline format, this easy-to-use Manual presents essential information on more than 75 disorders and conditions, as well as concepts relevant to caring for all critically ill patients and functioning in the critical care environment. Award-winning clinical nurse specialist Marianne Baird separates the content first by body system and then by disorder, with each disorder including a brief description of pathophysiology, assessment, diagnostic testing, collaborative management, nursing diagnoses, desired outcomes, nursing interventions, and patient teaching and rehabilitation. With the latest NANDA-I nursing diagnoses and new sections on Bariatric Considerations and Caring for the Elderly, this practical manual is designed to help critical care nurses and nursing students better care for any critically ill patient.
Coverage of approximately 80 critical care conditions/disorders includes those most commonly seen in critical care units.
Chapter outlines provide easy access to disorders.
A portable size makes it ideal for use in the unit or bedside, and is also easy to carry on campus.
Unique! Gerontology icon highlights considerations relating to the care of older adults.
Unique! Research briefs in special boxes discuss selected research studies for evidence-based patient care.
Unique! The latest NANDA-approved nursing diagnoses increase familiarity with NANDA terminology.
Appendixes provide quick reference to information needed in the critical care setting.

Revised format mirrors a practicing nurse's approach to patient care, making it easier to find information.
Newly formatted care plans incorporate diagnoses, interventions, and desired outcomes in a consistent, logical organization.
Patient safety alerts and high alerts call attention to issues important to a patient's safety.
Unique! Diagnostic Tests tables highlight the definition, purpose, and abnormal findings for each test.
Unique! Collaborative Management tables concisely summarize key points while incorporating nationally recognized guidelines.
Colored tabs mark the location of each body system, making topics easier to find.
Smaller trim size increases portability for use in the unit or bedside, while enhancing readability.

1. General Concepts in Caring for the Critically Ill
2. Managing the Critical Care Environment
3. Trauma
4. Respiratory Disorders
5. Cardiac and Vascular Disorders
6. Renal Failure
7. Neurologic Disorders
8. Endocrinologic Disorders
9. Gastrointestinal Disorders
10. Hematologic/Immunologic Disorders
11. Complex Special Situations
Appendixes
1. Heart and Breath Sounds
2. Glasgow Coma Scale
3. Cranial Nerves: Assessment and Dysfunctions
4. Major Deep Tendon (Muscle-Stretch) Reflexes
5. Major Superficial (Cutaneous) Reflexes
6. Inotropic and Vasoactive Medication Infusions
7. Sample Relaxation Technique
8. Abbreviations Used in this Manual

Marianne Saunorus Baird, RN, MN, ACNS-BC, Director of Clinical Excellence and Magnet Recognition Nursing Administration Magnet Program Director Emory DeKalb Medical Center Emory Decatur I Emory Hillandale I Emory Long Term Acute Care Emory Healthcare Atlanta, Georgia