Netter's Illustrated Human Pathology Updated Edition
Paperback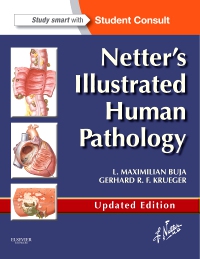 Free Shipping!
This item has low stock levels and may be back-ordered. We'll let you know if it is back-ordered, and you will not be charged until the item ships.
Gain critical insight into the structure-function relationships and the pathological basis of human disease with Netter's Illustrated Human Pathology. With a visually vibrant approach, this atlas provides clear and succinct representations of common human diseases by relating anatomical changes to the functional and clinical manifestations of disease and their underlying causes and mechanisms.
Updated throughout, it offers a superb complement to more comprehensive textbooks and presentations of pathology, including course syllabi. It can also be used as an adjunct for study of gross and microscopic pathology specimens in laboratory exercises, and makes a great review resource for students, medical residents, physicians and other healthcare professionals.
Grasp and retain key pathologic concepts and conditions. Beginning with a concise summary of the various pathological processes and diseases, each chapter consists of illustrations of pathological processes and diseases accompanied by concise text aimed at clarifying and expanding the information presented in the illustrations.

Gain a superb visual understanding through more than 380 classic Netter and new Netter-style images, gross and microscopic photographs and tables.

Reference information effortlessly with numerous tables throughout including 452 figures and 255 slides.

Take your learning farther with Student Consult access.

CHAPTER 1: GENERAL REACTION PATTERNS

CHAPTER 2: CARDIOVASCULAR SYSTEM

CHAPTER 3: RESPIRATORY SYSTEM

CHAPTER 4: GASTROINTESTINAL SYSTEM

CHAPTER 5: LIVER, GALLBLADDER, AND PANCREAS

CHAPTER 6: KIDNEYS, URETERS, AND URINARY BLADDER

CHAPTER 7: DISEASES OF THE MALE REPRODUCTIVE SYSTEM

CHAPTER 8: DISEASES OF THE FEMALE REPRODUCTIVE SYSTEM

CHAPTER 9: INTEGUMENTARY SYSTEM (SKIN)

CHAPTER 10: HEMATOPOIETIC AND LYMPHATIC TISSUES

CHAPTER 11: BONES, JOINTS, AND SOFT TISSUES

CHAPTER 12: ENDOCRINE SYSTEM

CHAPTER 13: NERVOUS SYSTEM

Maximilian L. Buja, Professor of Pathology and Laboratory Medicine at the University of Texas Health Science Center, Houston, TX, USA and Gerhard R. F. Krueger, MD, PhD, The University of Texas Health Science Center at Houston