A Manual of Orthopaedic Terminology, 8th Edition
Paperback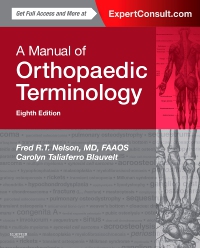 Free Shipping!
This item has low stock levels and may be back-ordered. We'll let you know if it is back-ordered, and you will not be charged until the item ships.
In its 38th year, A Manual of Orthopaedic Terminology has been a companion reference for anyone who needs the most up-to-date terms, acronyms, and codes terms relating to clinical orthopaedics and research. Portable and easily accessible, this authoritative compilation categorizes and cross-references terms to enable those unfamiliar with orthopaedics to locate a term in its proper context. Unlike a traditional A-Z dictionary format, terms are organized by topic—facilitating faster search results with related terms appearing on the same or immediately adjacent page.
"...It will continue to serve as the go-to reference for individuals needing to access orthopaedic information to serve their individual audiences."
Foreword by:
Marc F. Swiontkowski,Professor, Department of Orthopaedic Surgery, University of Minnesota, Feb 2015
Understand basic science terms as they relate to clinically relevant issues.

Clarifies terms used in injury and insurance claims with immediately neighboring relative terms.

Find information quickly with chapters organized by topic for easy reference.

Stay abreast of the latest terminology with new terms provided by contributors who are orthopaedic researchers from across the country and whose expertise provides current information on terminology and procedures.

Understandable to the lay reader and the professional with new illustrations, formatting, and tables clarifying disease processes.

Confer on the go with an easy-to-carry pocket size and online access to the complete text on Expert Consult, which also includes an enhanced eBook version at no extra cost!

1 Classifications of Fractures, Dislocations, and Sports-Related Injuries

2 Musculoskeletal Diseases and Related Terms

3 Imaging Techniques

4 Orthopaedic Tests, Signs, and Maneuvers

5 Laboratory Evaluations

6 Casts, Splints, Dressings, and Traction

7 Prosthetics and Orthotics

8 Anatomy and Orthopaedic Surgery

9 The Spine

10 The Hand and Wrist

11 The Foot and Ankle

12 Physical Medicine and Rehabilitation: Physical Therapy and Occupational Therapy

13 The Research Enterprise

Appendix A Orthopaedic Abbreviations

Appendix B Anatomic Positions and Directions

Appendix C Etymology of Orthopaedics

Fred R. T. Nelson, MD, FAAOS, Emeritus, Orthopaedics, Henry Ford Hospital, Detroit, Michigan and Carolyn Taliaferro Blauvelt, Formerly Writer-Editor, Medical-Dental Publications, Department of Orthopaedic Surgery, National Naval Medical Center; Department of Surgery, Uniformed Services University of the Health Sciences, Bethesda, Maryland