Career Advancement Program for ICD-10-CM 2014
,
Custom Online Course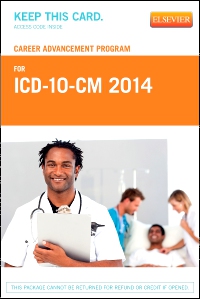 Or $0.00 with a valid access code
Designed to help professional medical coders achieve four Continuing Education Units (CEUs) recognized by the American Associate of Professional Coders (AAPC), this short online program prepares students to tackle the transition from ICD-9 to ICD-10. In particular, students will become aware of the potential obstacles posed by the transition to ICD-10 coding in regards to coding a more extensive range of medical conditions and procedures. The ICD-10-CM codes will be designed for use in all U.S. healthcare treatment settings. This course will also help students prepare for the ICD-10 Proficiency Assessment exam which will be required of all certified AAPC members beginning October 1st, 2013.
This program includes:

General Equivalency Mapping (GEMs) files to locate ICD-10-CM codes
Learning activities
Assessment exams
Critical thinking questions
Web links
And more!

Elsevier