Virtual Medical Office for Clinical Procedures for Medical Assistants (Access Card)
,9th Edition
Simulations - VMO - Print Workbook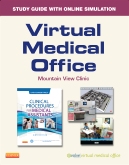 Free Shipping!
In Stock
This item has low stock levels and may be back-ordered. We'll let you know if it is back-ordered, and you will not be charged until the item ships.
Develop the critical thinking and decision-making skills you need to confidently succeed in practice with Virtual Medical Office. This innovative learning system simulates the experience of working in a real medical office and integrates content from your Clinical Procedures for Medical Assistants, 9th Edition textbook with an engaging study guide and interactive lessons to enable you to make decisions and learn from your mistakes in a realistic and completely safe environment.
Duration for access to this product, which may be at the discretion of your institution, is up to 24 months. Elsevier reserves the right to restrict or remove access due to changes in product portfolio or other market conditions.
Integrates text reading assignments with study guide lessons that direct you to the VMO software online.
Software includes 15 unique cases, each designed to highlight a different combination of medical assisting competencies as defined by CAAHEP and ABHES.
Immerses you in a realistic yet safe environment.
Software contains complete medical charts for each patient, including extensive back histories, giving you plenty of material to use for practicing coding and filing claims.
Each software case includes 5 videos (one at check-in, three in the exam room, and one at check-out), offering you a rare opportunity to step into the shoes of billable service providers and compare what is documented against what actually happens in the video.
Interface tested and designed to match computer experience level of coding and billing students.
Performance summary allows you to compare your decisions for each case with the expert's and evaluate any differences between the two.
Each study guide lesson focuses on a few objectives, to create brief (20-30 minutes of "seat time"), manageable learning experiences.
Promotes active learning as you collect information from a variety of sources to make decisions about each case's care.
Encourages critical thinking as you discuss and critique the performance of the medical assistants in the videos.
Study Guide Lessons available online allows you to complete your assignments and submit them electronically to your instructor.

NEW! Updated content reflects revisions of the Bonewit-West Clinical 9th Edition textbook.

Getting Started

Quick Office Tour

Detailed Office Tour

Lesson One: The Medical Record (Chapter 1) Lesson Two: Medical Asepsis and the OSHA Standard (Chapter 2) Lesson Three: Regulated Medical Waste (Chapter 2) Lesson Four: Sterilization and Disinfection (Chapters 3 and 10) Lesson Five: Obtaining Vital Signs (Chapter 4) Lesson Six: Preparing and Maintaining Examination and Treatment Areas (Chapter 5) Lesson Seven: Preparing the Patient and Assisting with a Routine Physical Examination (Chapter 5) Lesson Eight: Eye and Ear Assessment and Procedures (Chapter 6) Lesson Nine: Physical Agents to Promote Tissue Healing (Chapter 7) Lesson Ten: The Gynecologic Examination and Prenatal Care (Chapter 8) Lesson Eleven: The Pediatric Examination (Chapter 9) Lesson Twelve: Assisting with Minor Office Surgery (Chapter 10) Lesson Thirteen: Administration of Medication and Intravenous Therapy (Chapter 11) Lesson Fourteen: Cardiopulmonary Procedures: Electrocardiogram (Chapter 12) Lesson Fifteen: Respiratory Testing (Chapter 12) Lesson Sixteen: Fecal Specimen Collection (Chapter 13) Lesson Seventeen: Medical Microbiology (Chapters 15 and 20) Lesson Eighteen: Clean-Catch Urine (Chapter 16) Lesson Nineteen: Urinalysis (Chapter 16) Lesson Twenty: Capillary and Venipuncture Procedures (Chapter 17) Lesson Twenty-One: Hematology Testing (Chapters 15, 17, and 18) Lesson Twenty-Two: Performing Blood Chemistry Testing (Chapter 19)