Pathophysiology Online for Gould's Pathophysiology for the Health Professions (Access Code)
,5th Edition
Online Course - Access Card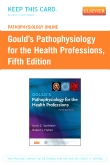 Free Shipping!
This item has low stock levels and may be back-ordered. We'll let you know if it is back-ordered, and you will not be charged until the item ships.
With modules corresponding to the material in the Gould's Pathophysiology for the Health Professions, 5th Edition text, Pathophysiology Online demonstrates disease processes and disorders in a clear and visual way. Animations, slide shows, and other interactive resources enhance understanding of pathophysiology for any learning style. A case-based approach presents information in small "chunks" for easier comprehension, encourages critical thinking, and helps you apply concepts. Within each module, a set of lessons lets you study and review pathophysiology — with exercises to allow self-assessment. Developed for students in the health professions, Pathophysiology Online is the perfect tool to get the most out of your book!
Duration for access to this product is for the life of the edition.
Clinical Correlation case studies let you apply pathophysiology to the real world, with each case including a patient with a pathology pertaining to a specific body system, along with an electronic health record and self-assessment questions.
Animations, slide shows, and audio narration demonstrate the more difficult disease and health processes, showing how, why, when, and the order in which abnormal physiologic processes take place.
Self-assessment activities promote learning with Self-Check activities such as image association, drag-and-drop, matching, multiple choice, and flash card activities, and Think About short-answer exercises — all with immediate feedback and source references.
Student-friendly features in each module include a lesson overview with learning objectives, glossary terms, and a module summary.
Audio glossary offers quick, easy access to new and unfamiliar terms — some with illustrations — along with pronunciations and definitions.
Additional photos and illustrations not included in the textbook visually reinforce learning.

Section I: Pathophysiology: Background and Overview
Module 1: Introduction to Pathophysiology
Module 2: Fluid, Electrolyte and Acid/Base Imbalances
Module 3: Introduction to Basic Pharmacology and Other Common Therapies
Module 4: Pain
Section II: Defense/Protective Mechanisms
Module 5: Inflammation and Healing
Module 6: Infection
Module 7: Immunity
Section III: Pathophysiology of Body Systems
Module 8: Skin Disorders
Module 9: Musculoskeletal Disorders
Module 10: Blood and Circulatory System Disorders
Module 11: Lymphatic System Disorders
Module 12: Cardiovascular System Disorders
Module 13: Respiratory System Disorders
Module 14: Neurological Disorders
Module 15: Disorders of the Eyes, Ears and Other Sensory Organs
Module 16: Endocrine System Disorders
Module 17: Digestive System Disorders
Module 18: Urinary System Disorders
Module 19: Reproductive System Disorders
Section IV: Biological Factors Contributing to Pathophysiology
Module 20: Neoplasms and Cancer
Module 21: Congenital and Genetic Disorders
Module 22: Complications Due to Pregnancy
Module 23: Complications Due to Adolescence
Module 24: Complications Due to Aging
Section V: Environmental Factors and Pathophysiology
Module 25: Immobility and Associated Problems
Module 26: Stress and Associated Problems
Module 27: Substance Abuse and Associated Problems
Module 28: Environmental Hazards and Associated Problems

Karin C. VanMeter, PhD, Lecturer
Iowa State University
Department of Biomedical Sciences
College of Veterinary Medicine
Ames, Iowa and Robert J Hubert, BS, Laboratory Coordinator
Iowa State University
Department of Animal Sciences
Ames, Iowa