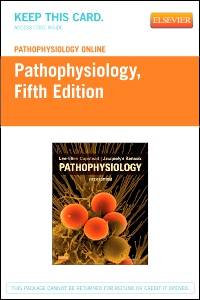 Publication Date:
07-01-2013
PROP - Pathophysiology Online for Pathophysiology (Access Code), 5th Edition
Custom Online Course - Access Card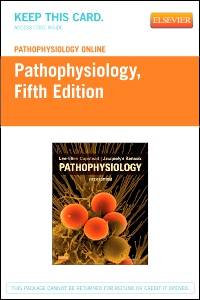 Publication Date:
07-01-2013
Free Shipping!
This item has low stock levels and may be back-ordered. We'll let you know if it is back-ordered, and you will not be charged until the item ships.
Deepen your understanding of the most important and challenging concepts in pathophysiology with this dynamic online course. Used in conjunction with Pathophysiology, 4th Edition, Pathophysiology Online integrates detailed illustrations, animations, interactive exercises, narrated algorithms, self-assessment reviews, and exams to reinforce your comprehension and provide an exciting, interactive learning experience.
Modular format enables you to supplement traditional classroom learning with online lessons or work at your own pace.
Module pre-tests gauge your readiness for module content and provide specific feedback to help you strengthen your understanding before moving forward.
Outlines in each module make it easy to access the specific content you're looking for.
Module objectives help you focus your study on the most important concepts.
Guided reading assignments highlight textbook material and provide related questions to help you read and review more efficiently.
More than 80 animations with audio narrations clarify complex pathophysiologic processes.
Hundreds of interactive exercises provide an engaging way to learn core topics and enhance your critical thinking skills, with immediate feedback that helps you identify areas needing additional study.
Narrated algorithms help you visualize important cause-and-effect relationships in health and disease processes and reinforce your understanding through accompanying activities.
More than 550 images help you identify common disease presentations and interpret key statistics.
Case studies throughout each module test your ability to apply concepts to real-life scenarios.
Guided discussions encourage deeper exploration of topics.
Further exploration references direct you to selected articles, websites, and texts for additional review.

Module Knowledge Exams used in conjunction with classroom lessons help you assess your mastery of basic pathophysiology principles.
Module Application Exams encourage critical thinking and challenge you to apply what you've learned.
Virtual patient scenarios at the beginning and end of each module reinforce key concepts and provide a practical learning framework.
Enhanced integration helps you easily locate related textbook content for further review.
Vastly expanded coverage of endocrine, genital and reproductive pathophysiology familiarizes you with conditions you will likely encounter in practice.

1. Cellular Adaptation, Injury, and Death

2. Molecular Genetics and Genetic Disorders

3. Neoplasia

4. Immunity

5. Infection, Inflammation, and Tissue Healing

6. Immune System Pathophysiology

7. HIV Infection and AIDS

8. Malignant Disorders of White Blood Cells

9. Oxygen Transport and Coagulation Pathophysiology

10. Blood Vessel and Blood Pressure Pathophysiology

11. Cardiac Pathophysiology

12. Respiratory Pathophysiology

13. Fluid, Electrolyte, and Acid-Base Imbalances

14. Renal and Bladder Pathophysiology

15. Genital and Reproductive Pathophysiology

16. Gastrointestinal Pathophysiology

17. Endocrine Pathophysiology

18. Neural Pathophysiology

19. Neuropsychological Pathophysiology

20. Musculoskeletal and Integumentary Pathophysiology

Lee-Ellen C. Copstead-Kirkhorn, PhD, RN, Professor and Chair of Nursing, Department of Nursing, College of Nursing and Health Sciences, Indiana University -Purdue University, IPFW --Fort Wayne, Fort Wayne, IN and Jacquelyn L. Banasik, PhD, ARNP, Associate Professor, WSU Intercollegiate College of Nursing, Washington State University, Spokane, WA