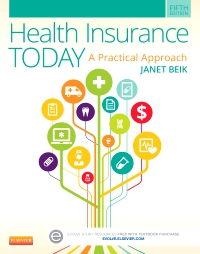 Publication Date:
09-26-2014
Medical Insurance Online for Health Insurance Today, 5th Edition
Online Course
Publication Date:
09-26-2014
Significantly updated to follow the 5th edition of Health Insurance Today, Medical Insurance Online is a practical, user-friendly online course that prepares today's students for successful careers as health insurance professionals. Eighteen online learning modules correspond to the 18 chapters in the text and offer short instructional segments followed by numerous application activities based on medical records from real-life case studies. Students will gain valuable experience with extracting information from the patient's chart, completing the CMS-1500 (02-12) form, electronic claims filing, HIPAA, electronic health records, and the latest industry standards.
Some content has been removed from this site because Flash is no longer supported on web browsers.
NEW! Updated screens, content, and reading assignments match the 5th edition of Health Insurance Today.
NEW! Thorough module updates reflect the latest information in claim submission methods, challenges with Medicare, and diagnostic coding.
Interactive exercises and activities — including multiple-choice, matching, short answer, image analysis, true or false, and case studies — offer multiple opportunities to recall and apply medical insurance concepts such as the cycle, organization, and completion of the claim form.
Training activities focusing on mock CMS-1500 (02-12) claim forms challenge users to look for information in the medical record and practice abstracting relevant information from the patient's chart.
An extensive glossary allows users to click on a term and read the definition at any time during the course.
Bolded and linked terms within the text connect users to immediate definitions of key terms.
Hypertext web links direct users to related websites and other Elsevier resources for further study.
Reading assignments from the text for each lesson clearly connect textbook content with application and hands-on learning in the online course.
Automatically scored and graded quizzes and exams allow users to evaluate their mastery of each module's content.
Seamless connection between text and online course feature engaging graphics, inviting elements, and vibrant colors for a more interesting and educational experience.
Medical record activities in several modules ask users to look for information within the medical record for documenting and abstracting purposes.
Course orientation provides directions for completing the course and navigating through the modules.
Surveys at the end of the course offers an opportunity to provide constructive feedback for ongoing course improvements.

NEW! Updated screens, content, and reading assignments match the 5th edition of Health Insurance Today.
NEW! Thorough module updates reflect the latest information in claim submission methods, challenges with Medicare, and diagnostic coding.

MODULES
1. The Origins of Health Insurance
2. Tools of the Trade: A Career as a Health (Medical) Insurance Professional
3. The Legal and Ethical Side of Medical Insurance
4. Types and Sources of Health Insurance
5. Claim Submission Methods
6. Traditional Fee-for-Service/Private Plans
7. Unraveling the Mysteries of Managed Care
8. Understanding Medicaid
9. Conquering Medicare's Challenges
10. Military Carriers
11. Miscellaneous Carriers: Workers' Compensation and Disability Insurance
12. Diagnostic Coding
13. Procedural, Evaluation and Management, and HCPCS Coding
14. The Patient
15. Keys to Successful Claims Management
16. The Role of Computers in Health Insurance
17. Reimbursement Procedures: Getting Paid
18. Hospital Billing and the UB-04

Janet I. Beik, AA, BA, MEd, Southeastern Community College (retired), Administrative Instructor, Medical Assistant Program, West Burlington, Iowa

This product is available in the following formats: