Simulation Learning System for Health Assessment
,
Simulations - SLS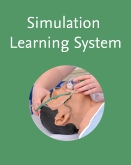 Or $0.00 with a valid access code
The Simulation Learning System (SLS) for Health Assessment is an online toolkit designed to help nursing programs effectively incorporate simulation into the nursing curriculum. This particular SLS features a variety of health assessment simulation scenarios that each revolve around one of 12 standardized patients, to give you realistic experience in the simulation lab practicing patient assessment (in both an inpatient and outpatient setting), documenting findings, and providing an SBAR hand-off report.
Duration for access to this product, which may be at the discretion of your institution, is up to 36 months. Elsevier reserves the right to restrict or remove access due to changes in product portfolio or other market conditions.
SimChart EHR houses all the patient records, giving you meaningful experience working with electronic health records.
Modularized course format includes reading assignments and page references from all three of Elsevier's health assessment textbooks (Jarvis, Wilson, and Ball), along with the Canadian edition of Jarvis, to help you tie together classroom and clinical learning.
Skills drills offer additional opportunities to practice and master core skills prior to simulation. Each skills drill also includes a documentation component, giving even you more experience working with EHRs.
Simulation scenarios revolve around one of the 12 core patients "residing" in the SLS, and will give you meaningful experience assessing pain, nutrition, and health issues surrounding the neurological, musculoskeletal, cardiovascular, respiratory, and sensory body systems.
Learning resources include reading assignments from the textbooks; pre-simulation exercises, patient data, and quizzes; multimedia resources; and post-simulation exercises and quizzes.