Handbook of Zoonoses - Elsevier eBook on VitalSource
,
Elsevier eBook on VitalSource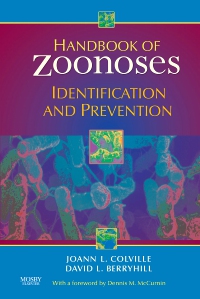 Or $0.00 with a valid access code
This essential, authoritative handbook provides clear, accurate coverage of zoonoses — diseases that can spread from animals to humans. The consistent format helps you quickly locate key information, such as how each disease affects the host, how it is spread, how it is treated, and necessary safety precautions. It also discusses the importance of educating animal owners about the public health implications of zoonoses and how to prevent them from spreading.
Clear, concise coverage helps you respond quickly when presented with diseases that could potentially spread between patients, clients, and staff in the veterinary clinic.
Each disease entry begins with a chart of its potential morbidity (the rate of incidence of a disease) and mortality (death rate), giving you at-a-glance access to the chance of contracting the disease and the severity of the disease if contracted.
Clinically relevant coverage includes information on the etiology (bacterial, viral, parasitic, etc.), most common nonhuman hosts, transmission modes, course of the disease, clinical signs in animals and humans, diagnostic tests, prevention, and general advice.
Essential information on preventing the spread of disease helps you educate clients about how to protect themselves and their animals from zoonoses.
Coverage of diseases such as mad cow disease, West Nile virus, rabies, and anthrax, prepares you to answer client questions about diseases that are in the public eye.

PART ONE: Principles of Zoonoses

Introduction

Zoonotic Diseases

Hosts

Modes of Transmission

Direct Transmission

Indirect Transmission

Preventing Zoonotic Diseases

Morbidity and Mortality

PART TWO: Zoonotic Diseases

Anthrax

Babesiosis

Botulism

Bovine Spongiform Encephalopathy (Mad Cow Disease)

Brucellosis

Campylobacteriosis (Vibriosis)

Cat Scratch Disease

Colibacillosis

Dermatophytosis

Eastern Equine Encephalitis

Ehrlichiosis

Giardiasis (Giardia)

Hantavirus Pulmonary Syndrome

Hookworms

Influenza

La Crosse Encephalitis

Leptospirosis

Listeriosis

Lyme Disease

Lymphocytic Choriomeningitis

Tuberculosis (Mycobacterium Infections)

Pasteurellosis

Plague

Psittacosis

Q Fever

Rabies

Rat-Bite Fever

Rocky Mountain Spotted Fever

Roundworms

St. Louis Encephalitis

Salmonellosis

Scabies

Staphylococcus

Tapeworms (Cestodes)

Toxoplasmosis

Trichinosis

Tularemia

Vibriosis

West Nile Infection

Western Equine Encephalitis

Yersiniosis

Joann Colville, DVM, North Dakota State University, Fargo, ND, USA and David Berryhill, PhD, Director of Special Programs, College of Agriculture, Food Systems, and Natural Resources; Associate Professor, Department of Animal and Range Sciences, North Dakota State University, Fargo, ND, USA