Pediatrics A Competency-Based Companion Elsevier eBook on VitalSource (Retail Access Card)
,
Elsevier eBook on VitalSource - Access Card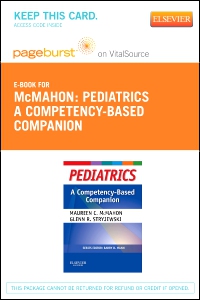 Free Shipping!
This item has low stock levels and may be back-ordered. We'll let you know if it is back-ordered, and you will not be charged until the item ships.
Pediatrics: A Competency-Based Companion, by Maureen C. McMahon, MD and Glenn R. Stryjewski, MD, MPH, is designed to teach you to think like an experienced clinician. The only text written in the framework of the Core Competencies developed by the ACGME, its case-based approach illustrates the thought processes that effective practitioners use to approach and evaluate common pediatric presentations.
Master ACGME Core Competencies with the aid of a color-coded system that helps you to integrate evidence-based medicine, continual self-assessment, and cognizance of interpersonal skills into your daily routine.
Access the high-yield core information you need for pediatric rotations in a portable, pocket-sized format that organizes the most common, must-know pediatric signs/symptoms and disorders by patient presentation.
Learn to see the "big picture" with the aid of "Teaching Visuals" chapters and "Speaking Intelligently" and "Clinical Thinking" features in clinical chapters.
Easily locate more in-depth information on any topic with references to Nelson Essentials of Pediatrics, 6th Edition.
Access the complete contents online at www.studentconsult.com, along with a Competency Self-Assessment Log..."Professors' Pearls" that provide cases with questions and annotated answers...Vertical Reads...and many other features to enhance learning and retention.
Get advice on managing your career, time, and life outside the clinical setting via bonus online appendices.

Section I: INTRODUCTION TO THE COMPETENCIES

1 How to Study This Book

2 Medical Knowledge

3 Patient Care

4 Professionalism

5 Interpersonal and Communication Skills

6 Practice-Based Learning and Improvement

7 Systems-Based Practice

8 How to Succeed in the Pediatric Clerkship

9 How to Succeed as a Junior Resident: Continuity Clinic and Inpatient Wards

10 History Taking and Physical Examination

11 Note Writing

12 Oral Presentations

Appendix 1 ACGME General Competencies

Appendix 2 Competency Self-Assessment Form: Pediatrics

Online Appendices

Appendix 1 Competency-Based Career Planning

Appendix 2 Organization and Time Management

Appendix 3 Nonclinical Activities

Section II: THE OUTPATIENT OFFICE

13 Essentials of the Pediatric Well Child Visit

14 Developmental Screening and Surveillance

15 Anticipatory Guidance

16 The Newborn Well Child Visit

17 Teaching Visual: Examination of the Infant Hip

18 The 1-, 2-, and 4-Month Well Child Visits

19 The 6-Month Well Child Visit

20 The 9-Month Well Child Visit

21 The 12-Month Well Child Visit

22 The 18- and 24-Month Well Child Visits

23 The Annual Well Child Visit

24 The Adolescent Well Child Visit

DEVELOPMENTAL PROBLEMS

25 The Special Needs Child

26 Autism

27 Attention Deficit/Hyperactivity Disorder (Case 1)

28 Down Syndrome

EPISODIC CARE

29 Preparticipation Physical Evaluation

30 Sore Throat (Case 2)

31 Cough (Case 3)

32 Headache in Childhood (Case 4)

33 Eye Pain and Discharge (Case 5)

34 Diarrhea (Case 6)

35 Constipation (Case 7)

36 Fever (Case 8)

37 Ear Pain (Case 9)

38 Teaching Visual: Examination of the Middle Ear

39 Weight Gain (Case 10)

40 Feeding Difficulty (Case 11)

41 Dysuria (Case 12)

Professor's Pearls: The Outpatient Office

Section III: THE INPATIENT WARD

42 Family-Centered Care

43 Fever and Rash (Case 13)

44 Difficulty Breathing (Case 14)

45 Anemia (Case 15)

46 Neonatal Fever (Case 16)

47 Seizure (Case 17)

48 Apparent Life-Threatening Event (Case 18)

49 Meningitis (Case 19)

50 Teaching Visual: Lumbar Puncture

51 Skin and Soft Tissue Infections (Case 20)

52 The Limping Child (Case 21)

53 Teaching Visual: Growth Plate Fracture Classification

Professor's Pearls: The Inpatient Ward

Section IV: THE NEWBORN NURSERY

54 The Newborn Examination

55 Dysmorphology

56 Infant Feeding

57 Newborn Screening

58 Newborn Hearing Screen (Case 22)

59 The Late Preterm Infant

60 Jaundice (Case 23)

61 Feeding Difficulty in the Newborn (Case 24)

62 Early Onset Group B Streptococcal Disease (Case 25)

63 Delayed Meconium Passage (Case 26)

64 Antenatal Hydronephrosis (Case 27)

65 The Newborn with a Murmur (Case 28)

66 Transient Tachypnea of the Newborn (Case 29)

67 Neonatal Hypoglycemia (Case 30)

Professor's Pearls: The Newborn Nursery

Section V: THE NEONATAL INTENSIVE CARE UNIT

68 Delivery Room Management of the Newborn Infant

69 The Preterm Infant

70 The Growth-Restricted Infant

71 Follow-Up Care of the Premature Infant

72 Necrotizing Enterocolitis (Case 31)

73 Respiratory Distress Syndrome (Case 32)

74 Congenital Diaphragmatic Hernia (Case 33)

75 Tracheoesophageal Fistula (Case 34)

76 Meconium Aspiration Syndrome (Case 35)

77 Neonatal Sepsis (Case 36)

78 Intraventricular Hemorrhage (Case 37)

79 Cyanotic Newborn (Case 38)

80 Teaching Visual: Fetal Circulation

Professor's Pearls: The Neonatal Intensive Care Unit

Section VI: THE PEDIATRIC INTENSIVE CARE UNIT

81 Raised Intracranial Pressure (Case 39)

82 Arrhythmia (Case 40)

83 Acute Respiratory Failure (Case 41)

84 Shock (Case 42)

85 Diabetic Ketoacidosis (Case 43)

86 Trauma (Case 44)

87 Status Asthmaticus (Case 45)

88 The Chronic Child (Case 46)

89 Status Epilepticus (Case 47)

90 Myocarditis (Case 48)

Professor's Pearls: The Pediatric Intensive Care Unit

Section VII: THE EMERGENCY DEPARTMENT

91 Focused Evaluation of the Emergent Pediatric Patient: An Introduction for the Student

92 Dehydration (Case 49)

93 Lumps and Bumps (Case 50)

94 Abdominal Pain (Case 51)

95 Chest Pain (Case 52)

96 Physical Abuse (Case 53)

97 Pediatric Poisonings (Case 54)

98 Petechial Rash (Case 55)

99 Animal Bite (Case 56)

Professor's Pearls: The Emergency Department

Section VIII: THE COMPETENCIES: CHALLENGES AND PERSPECTIVES

100 Giving Bad News

101 Difficult Encounters

102 Teamwork and Communication

103 Patient Safety

104 Informed Consent

105 Ethics in the Neonatal Intensive Care Unit: The Limits of Viability

106 The Challenge of Immunization Refusal

107 Building Rapport With the Pediatric Patient: A Retrospective Perspective

108 The Core Competencies in a Disaster Zone: The Haitian Experience

Maureen C McMahon, MD, Assistant Professor of Pediatrics, Jefferson Medical College, Thomas Jefferson University, Philadelphia, Pennsylvania; General Pediatrician, Nemours/Alfred I. duPont Hospital for Children, Wilmington, Delaware; Lankenau Medical Center, Main Line Health System, Wynnewood, Pennsylvania and Glenn R Stryjewski, MD, MPH, Associate Professor, Department of Pediatrics, Jefferson Medical College, Thomas Jefferson University, Philadelphia, Pennsylvania; Pediatric Intensivist, Nemours/Alfred I. duPont Hospital for Children, Wilmington, Delaware