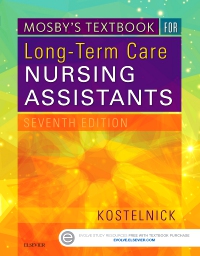 Mosby's Textbook for Long-Term Care Nursing Assistants
, 7th Edition
Paperback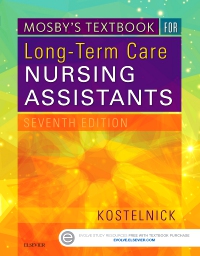 In Stock
This item has low stock levels and may be back-ordered. We'll let you know if it is back-ordered, and you will not be charged until the item ships.
Mosby's Textbook for Long-Term Care Nursing Assistants clearly and comprehensively addresses current responsibilities of the nursing assistant working in a long-term care setting. Written at a 7th grade reading level, in an appealing visual format, this text addresses the needs of learners of all levels. More than 100 procedures provide clear instructions for completing skills in manageable segments for easier learning. The updated companion CD contains over 25 animated procedures with exercises and an audio glossary to assist the multi-modal learner.
7th grade reading level promotes comprehension in all levels of learners including ESL students.
OBRA and CMS content highlights OBRA and CMS requirements for providing care.
Quality-of-Life boxes in each chapter and content throughout reinforce the importance of promoting residents' rights and enhancing the quality of life while providing care.
Over 100 procedures with detailed step-by-step instructions for completing nursing assistant skills in manageable segments for easier learning.
NNAAP certification exam icons alert you to skills tested on the National Nurse Aide Assessment Program and state certification exams.
Promotion Safety and Comfort boxes offer guidelines for practicing safe and effective care to enhance patient safety and comfort.
Residents with Dementia boxes provide specific considerations for safe and effective care of residents with dementia that help you meet the special needs of residents with dementia.
Focus on Rehabilitation boxes clarify considerations and insights about rehabilitation and restorative care.
Delegation Guidelines boxes highlight nursing assistant responsibilities for delegated tasks to better prepare you to deliver safe and effective care.
Caring About Culture boxes illustrate examples of cultural and ethnic beliefs and customs to help you become a more sensitive care provider.
Focus on Communication boxes emphasize importance of good communication and provide practical tips to help you communicate more effectively and confidently.
Teamwork and Time Management boxes supply specific guidelines to help nursing assistants provide excellent, efficient care and cooperation among members of health care team.
NEW! Video clip icons in the procedures alert you to video clips on the accompanying Evolve site to enhance your learning from the brand-new edition of Mosby's Nursing Assistant Video Skills.
Procedure icons next to content headings alert you to related procedures.
Review questions at the end of each chapter help you evaluate learning.

NEW! Time to Reflect boxes present realistic practice setting situations nursing assistants face that help you build critical thinking skills while applying chapter concepts.
NEW! Updated nutrition, emergency and safety content offers new guidelines in diets, choking and cardiopulmonary resuscitation.
NEW! Updated Spanish Vocabulary and Phrases audio glossary supplies Spanish pronunciation of common English phrases used in the healthcare setting.
NEW! Updated companion CD with over 25 animated procedures demonstrates the most common procedures in animated form with accompanying exercises and complete audio that reinforces learning with multi-modal learners.
NEW! Pocket-sized clinical reference card equips you with easy access to common abbreviations, normal values, 24-hour clock, and common positions.

UNIT I: WORKING IN LONG-TERM CARE SETTINGS 1. The Nursing Assistant Working in Long-Term Care 2. Ethics, Laws, and Resident Rights 3. Work Ethics 4. Communicating With the Health Team 5. Assisting With the Nursing Process

UNIT II: FOCUSING ON THE PERSON 6. Understanding the Resident 7. Body Structure and Function 8. The Older Person 9. Sexuality

UNIT III: PROTECTING THE PERSON 10. Safety 11. Preventing Falls 12. Restraint Alternatives and Safe Restraint Use 13. Preventing Infection 14. Body Mechanics and Safe Resident Handling, Positioning, and Transfers

UNIT IV: ASSISTING WITH ACTIVITIES OF DAILY LIVING 15. The Resident's Unit 16. Bedmaking 17. Hygiene 18. Grooming 19. Nutrition and Fluids 20. Nutritional Support and IV Therapy 21. Urinary Elimination 22. Bowel Elimination 23. Exercise and Activity 24. Comfort, Rest, and Sleep 25. Oxygen Needs and Respiratory Support and Therapies UNIT V: ASSISTING WITH ASSESSMENT 26. Measuring Vital Signs 27. Assisting With the Physical Examination 28. Collecting and Testing Specimens

UNIT VI: ASSISTING WITH CARE NEEDS 29. Admitting, Transferring, and Discharging Residents 30. Wound Care 31. Pressure Ulcers 32. Hearing, Speech, and Vision Problems 33. Cancer, Immune System, and Skin Disorders 34. Nervous System and Musculoskeletal Disorders 35. Cardiovascular and Respiratory System Disorders 36. Digestive and Endocrine System Disorders 37. Urinary and Reproductive System Disorders 38. Mental Health Problems 39. Confusion and Dementia 40. Developmental Disabilities 41. Rehabilitation and Restorative Care 42. Assisted Living 43. Basic Emergency Care 44. End-of-Life Care

Clare Kostelnick
In Stock
This item has low stock levels and may be back-ordered. We'll let you know if it is back-ordered, and you will not be charged until the item ships.