Hematology Elsevier eBook on VitalSource (Retail Access Card)
,
Elsevier eBook on VitalSource - Access Card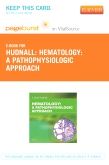 Free Shipping!
This item has low stock levels and may be back-ordered. We'll let you know if it is back-ordered, and you will not be charged until the item ships.
Hematology: A Pathophysiologic Approach, by S. David Hudnall, MD, FCAP, delivers an accessible yet thorough understanding of hematolymphoid physiology and pathophysiology. This new title in the Mosby Physiology Monograph Series offers you masterful explanations of hematopoiesis, immunology, hemostasis, hemoglobinopathy, metabolic disorders, genetics, and neoplasia from an authority who has 26 years of practical experience in laboratory hematology and has taught thousands of medical and undergraduate students. In print and online at www.studentconsult.com, this is an ideal integrated, problem-based way to learn about this complex subject.
Receive masterful explanations of hematopoiesis, immunology, hemostasis, hemoglobinopathy, metabolic disorders, genetics, and neoplasia from S. David Hudnall, MD, FCAP, who has 26 years of practical experience in laboratory hematology and has taught thousands of medical and undergraduate students.
Understand the interrelationships between the diverse factors that can give rise to disease.
See how hematologic disorders are evaluated through blood counting, histopathology, immunohistochemistry, cytogenetics, and coagulation testing.
Visualize a wide spectrum of hematologic pathology by viewing 150 full-color photomicrographs.
Access the complete contents online at www.studentconsult.com.

Brief Overview of the Hematolymphoid System

Chapter 1. Hematopoiesis

Chapter 2. Erythropoiesis and Oxygen Transport

Chapter 3. Iron, Heme, and Hemoglobin

Chapter 4. Hemoglobinopathy

Chapter 5. Red Blood Cell Metabolism and Enzyme Defects

Chapter 6. Hemolytic Anemia

Chapter 7. Aplastic Anemia and Related Disorders

Chapter 8. Megaloblastic Anemia

Chapter 9. Myeloid Cells

Chapter 10. Immune System and Related Disorders

Chapter 11. Genetic Basis of Hematopoietic Neoplasia

Chapter 12. Leukemia and Related Disorders

Chapter 13. Lymphoma and Related Disorders

Chapter 14. Blood Coagulation

Chapter 15. Platelets

Chapter 16. Benign Conditions of Lymphoid Organs

Chapter 17. Blood Transfusion and Stem Cell Transplantation

Chapter 18. Cancer Chemotherapy

S. David Hudnall, MD, FCAP, Professor of Pathology and Laboratory Medicine, Division Chief of Hematopathology, University of Texas Medical Branch, Galveston, TX