Facility Coding Exam Review 2016
,
Paperback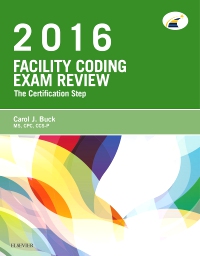 Free Shipping!
This item has low stock levels and may be back-ordered. We'll let you know if it is back-ordered, and you will not be charged until the item ships.
Prepare to succeed on your facility coding exam with Facility Coding Exam Review 2016: The Certification Step! From leading coding author and educator Carol J. Buck, this exam review provides complete coverage of all topics included on the facility coding certification exam — including anatomy, terminology, and pathophysiology for each body system; reimbursement issues; CPT, HCPCS, and ICD-10-CM/PCS coding (with ICD-9-CM posted on Evolve companion website); and more. Two full practice exams simulate the testing experience, include answers and rationales, and provide enough practice to reassure even the most insecure exam-taker. It's the only facility coding exam review you need!
Mobile-optimized quick quizzes provide extra practice and review with 300 additional medical terminology, pathophysiology, CPT, ICD-10-CM/PCS, and HCPCS questions.
Comprehensive review content covers everything you need to know to pass the facility coding certification exam.
Practice exams on the Evolve website allow you to assess strengths and weaknesses and develop a plan for focused study, including a Pre-Exam to be taken prior to studying, the same exam again as a Post-Exam to be taken after your review, and a Final Exam that simulates the experience of taking the actual facility coding exam.
Answers and rationales to the Pre-/Post- and Final Exams are available on Evolve.
Real-world coding reports (cleared of any patient identifiers) simulate the reports that you will encounter on the job and challenge you to apply key coding principles to actual cases.
Netter's Anatomy illustrations help you understand anatomy and how it affects coding.
Success Strategies section in the text guides you step-by-step through the entire exam process.
Concise outline format helps you access information quickly and study more efficiently.
Colorful design and illustrations make your study and review easier and more engaging.

NEW! All diagnosis coding content is updated to ICD-10-CM/PCS, preparing you with all the ICD-10-CM/PCS information you need for success on the certification exam.
UPDATED content includes the latest coding information available, promoting exam success and accurate coding on the job.

Success Strategies
Course Syllabus and Student Calendar
Unit 1: Anatomy, Terminology, and Pathophysiology
Unit 2: Reimbursement Issues
Unit 3: CPT and HCPCS Coding
Unit 4: ICD-10-CM/PCS Coding
Unit 5: Coding Challenge
Figure Credits
Appendix A: Resources
Appendix B: Answers
Appendix C: Medical Terminology
Appendix D: Combining Forms
Appendix E: Prefixes
Appendix F: Suffixes
Appendix G: Abbreviations
Appendix H: Further Text Resources
Appendix I: Pharmacology Review
Index

Carol J. Buck, MS, CPC, CCS-P, Former Program Director, Medical Secretarial Programs, Northwest Technical College, East Grand Forks, MN