Epidemiology Elsevier eBook on VitalSource, 4th Edition
Elsevier eBook on VitalSource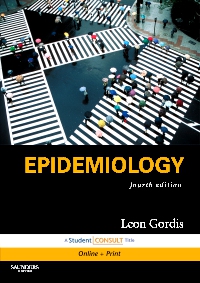 Or $0.00 with a valid access code
Gain a solid foundation of basic epidemiologic principles as well as practical applications in public health and clinical practice.
Visualize concepts vividly through abundant full-color figures, graphs, and charts.
Check your understanding of essential information with 120 multiple-choice epidemiology self-assessment questions.
Access to this product, which may be at the discretion of your institution, is up to 3 years of online and perpetual offline access. Elsevier reserves the right to restrict or remove access due to changes in product portfolio or other market conditions.
Utilizes new full-color format to enhance readability and clarity.
Provides new and updated figures, references and concept examples to keep you absolutely current - new information has been added on Registration of Clinical Trials, Case-Cohort Design, Case-Crossover Design, and Sources and Impact of Uncertainty ( disease topics include: Obesity, Asthma, Thyroid Cancer, Helicobacter Pylori and gastric/duodenal ulcer and gastric cancer, Mammography for women in their forties) – expanded topics include Person-time.
Includes STUDENT CONSULT access, allowing you to: o Access the complete contents of the book online, anywhere you go…perform quick searches…and add your own notes and bookmarks. o Test yourself with the additional TEST BANK including 200 MCQs, plus complete rationales for all self-assessment Q and A in the print book. o Reference all other STUDENT CONSULT titles you own online, too—all in one place!

Introduces both the underlying concepts as well as the practical uses of epidemiology in public health and in clinical practice.
Systemizes learning and review with study questions in each section and an answer key and index.
Illustrates textual information with clear and informative full-color illustrations, many created by the author and tested in the classroom.

SECTION I

The Epidemiologic Approach to Disease and Intervention

CHAPTER 1

Introduction 3

CHAPTER 2

The Dynamics of Disease Transmission 19

CHAPTER 3

Measuring the Occurrence of Disease: I. Morbidity 37

CHAPTER 4

Measuring the Occurrence of Disease: II. Mortality 59

CHAPTER 5

Assessing the Validity and Reliability of Diagnostic and Screening Tests 85

CHAPTER 6

The Natural History of Disease: Ways of Expressing Prognosis 109

CHAPTER 7

Assessing the Effi cacy of Preventive and Therapeutic Measures:

Randomized Trials 131

CHAPTER 8

Randomized Trials: Some Further Issues 147

SECTION II

Using Epidemiology to Identify the Cause of Disease

CHAPTER 9

Cohort Studies 167

CHAPTER 10

Case-Control Studies and Other Study Designs 177

CHAPTER 11

Estimating Risk: Is There an Association? 201

Xiv

CHAPTER 12

More on Risk: Estimating the Potential for Prevention 215

CHAPTER 13

A Pause for Review: Comparing Cohort and Case-Control Studies 223

CHAPTER 14

From Association to Causation: Deriving Inferences from Epidemiologic Studies 227

CHAPTER 15

More on Causal Inferences: Bias, Confounding, and Interaction 247

CHAPTER 16

Identifying the Roles of Genetic and Environmental Factors in Disease Causation 265

SECTION III

Applying Epidemiology to Evaluation and Policy

CHAPTER 17

Using Epidemiology to Evaluate Health Services 293

CHAPTER 18

The Epidemiologic Approach to Evaluating Screening Programs 311

CHAPTER 19

Epidemiology and Public Policy 333

CHAPTER 20

Ethical and Professional Issues in Epidemiology 349

ANSWERS TO REVIEW QUESTIONS 361

INDEX 363

xv

Leon Gordis, MD, MPH, DrPH, Professor Emeritus of Epidemiology; Johns Hopkins University Bloomberg School of Public Health; Professor Emeritus of Pediatrics; Johns Hopkins University School of Medicine; Baltimore, Maryland