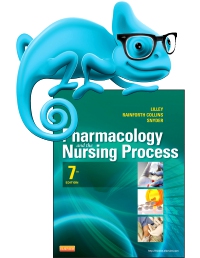 Elsevier Adaptive Learning for Pharmacology and the Nursing Process, 7th Edition
Elsevier Adaptive Learning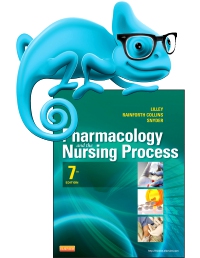 Or $0.00 with a valid access code
Corresponding chapter-by-chapter to Pharmacology and the Nursing Process, 7e, Elsevier Adaptive Learning combines the power of brain science with sophisticated, patented Cerego algorithms to help you learn faster and remember longer. It's fun; it's engaging; and it's constantly tracking your performance and adapting to deliver content precisely when it's needed to ensure core information is transformed into lasting knowledge.
Duration for access to this product, which may be at the discretion of your institution, is up to 36 months. Elsevier reserves the right to restrict or remove access due to changes in product portfolio or other market conditions.
An individual study schedule reduces cognitive workload and helps you become a more effective learner by automatically guiding the learning and review process.
The mobile app offers a seamless learning experience between your smartphone and the web with your memory profile maintained and managed in the cloud.
UNIQUE! Your memory strength is profiled at the course, chapter, and item level to identify personal learning and forgetting patterns.
UNIQUE! Material is re-presented just before you would naturally forget it to counteract memory decay.
A personalized learning pathway is established based on your learning profile, memory map, and time required to demonstrate information mastery.
The comprehensive student dashboard allows you to view your personal learning progress.

PART 1: PHARMACOLOGY BASICS Study Skills Tips: Introduction to Study Skills Concepts, PURR, and Pharmacology Basics 1. The Nursing Process and Drug Therapy 2. Pharmacologic Principles 3. Lifespan Considerations 4. Cultural, Legal, and Ethical Considerations 5. Medication Errors: Preventing and Responding 6. Patient Education and Drug Therapy 7. Over-the-Counter Drugs and Herbal and Dietary Supplements 8. Gene Therapy and Pharmacogenomics 9. Photo Atlas of Drug Administration

PART 2: DRUGS AFFECTING THE CENTRAL NERVOUS SYSTEM Study Skills Tips: Vocabulary, Text Notation, and Language Conventions 10. Analgesic Drugs 11. General and Local Anesthetics 12. Central Nervous System Depressants and Muscle Relaxants 13. Central Nervous System Stimulants and Related Drugs 14. Antiepileptic Drugs 15. Antiparkinson Drugs 16. Psychotherapeutic Drugs 17. Substance Abuse

PART 3: DRUGS AFFECTING THE AUTONOMIC NERVOUS SYSTEM Study Skills Tips: PURR Application and Study Groups 18. Adrenergic Drugs 19. Adrenergic-Blocking Drugs 20. Cholinergic Drugs 21. Cholinergic-Blocking Drugs

PART 4: DRUGS AFFECTING THE CARDIOVASCULAR AND RENAL SYSTEMS Study Skills Tips: Linking Learning and Text Notation 22. Antihypertensive Drugs 23. Antianginal Drugs 24. Heart Failure Drugs 25. Antidysrhythmic Drugs 26. Coagulation Modifier Drugs 27. Antilipemic Drugs 28. Diuretic Drugs 29. Fluids and Electrolytes

PART 5: DRUGS AFFECTING THE ENDOCRINE AND REPRODUCTIVE SYSTEMS Study Skills Tips: Questioning Strategy 30. Pituitary Drugs 31. Thyroid and Antithyroid Drugs 32. Antidiabetic Drugs 33. Adrenal Drugs 34. Women's Health Drugs 35. Men's Health Drugs

PART 6: DRUGS AFFECTING THE RESPIRATORY SYSTEM Study Skills Tips: Study on the Run and PURR 36. Antihistamines, Decongestants, Antitussives, and Expectorants 37. Bronchodilators and Other Respiratory Drugs

PART 7: ANTIINFECTIVE AND ANTIINFLAMMATORY DRUGS Study Skills Tips: Applying the Nursing Process 38. Antibiotics Part 1 39. Antibiotics Part 2 40. Antiviral Drugs 41. Antitubercular Drugs 42. Antifungal Drugs 43. Antimalarial, Antiprotozoal, and Anthelmintic Drugs 44. Antiinflammatory and Antigout Drugs

PART 8: CHEMOTHERAPEUTIC DRUGS AND BIOLOGIC AND IMMUNE MODIFIERS Study Skills Tips: Manage Time, Evaluate Prior Performance, Anticipate the Test, and Plan for Distributed Study 45. Antineoplastic Drugs Part 1: Cancer Overview and Cell Cycle–Specific Drugs 46. Antineoplastic Drugs Part 2: Cell Cycle–Nonspecific Drugs and Miscellaneous Drugs 47. Biologic Response–Modifying and Antirheumatic Drugs 48. Immunosuppressant Drugs 49. Immunizing Drugs and Biochemical Terrorism

PART 9: DRUGS AFFECTING THE GASTROINTESTINAL SYSTEM AND NUTRITION Study Skills Tips: Active Questioning, What Are the Right Questions, Kinds of Questions, and Questioning Application 50. Acid-Controlling Drugs 51. Bowel Disorder Drugs 52. Antiemetic and Antinausea Drugs 53. Vitamins and Minerals 54. Anemia Drugs 55. Nutritional Supplements

PART 10: DERMATOLOGIC, OPHTHALMIC, AND OTIC DRUGS Study Skills Tips: Time Management, PURR, and Repeat the Steps 56. Dermatologic Drugs 57. Ophthalmic Drugs 58. Otic Drugs Appendix: Pharmaceutical Abbreviations

Linda Lane Lilley, RN, PhD, Associate Professor Emeritus, School of Nursing, Old Dominion University, Virginia Beach, Virginia, Shelly Rainforth Collins, PharmD, Clinical Pharmacy Specialist and Coordinator of Clinical Pharmacy Services, Chesapeake Regional Medical Center; President, Drug Information Consultants, Chesapeake, Virginia and Julie S. Snyder, MSN, RN-BC, Performance Improvement Coordinator, Chesapeake Regional Medical Center, Chesapeake, Virginia; Adjunct Faculty, School of Nursing, Old Dominion University, Norfolk, Virginia.
Or $0.00 with a valid access code