Elsevier Adaptive Learning for Fundamentals Concepts and Skills for Nursing (Access Card), 4th Edition
Elsevier Adaptive Quizzing - Access Card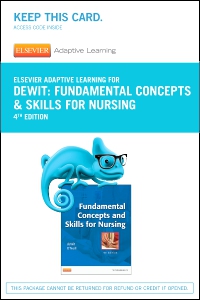 Free Shipping!
In Stock
This item has low stock levels and may be back-ordered. We'll let you know if it is back-ordered, and you will not be charged until the item ships.
Corresponding chapter-by-chapter to Fundamental Concepts and Skills for Nursing, 4e, Elsevier Adaptive Learning combines the power of brain science with sophisticated, patented Cerego algorithms to help you learn faster and remember longer. It's fun; it's engaging; and it's constantly tracking your performance and adapting to deliver content precisely when it's needed to ensure core information is transformed into lasting knowledge.
Duration for access to this product, which may be at the discretion of your institution, is up to 36 months. Elsevier reserves the right to restrict or remove access due to changes in product portfolio or other market conditions.
An individual study schedule reduces cognitive workload and helps you become a more effective learner by automatically guiding the learning and review process.
The mobile app offers a seamless learning experience between your smartphone and the web with your memory profile maintained and managed in the cloud.
UNIQUE! Your memory strength is profiled at the course, chapter, and item level to identify personal learning and forgetting patterns.
UNIQUE! Material is re-presented just before you would naturally forget it to counteract memory decay.
A personalized learning pathway is established based on your learning profile, memory map, and time required to demonstrate information mastery.
The comprehensive student dashboard allows you to view your personal learning progress.

Unit One: Introduction to Nursing and the Health Care System 1. Nursing and the Health Care System 2. Concepts of Health, Illness, and Health Promotion 3. Legal and Ethical Aspects of Nursing

Unit Two: The Nursing Process 4. Overview of the Nursing Process and Critical Thinking 5. Assessment, Nursing Diagnosis, and Planning 6. Implementation and Evaluation

Unit Three: Communication in Nursing 7. Documentation of Nursing Care 8. Communication and the Nurse-Patient Relationship 9. Patient Teaching 10. Delegation, Leadership, and Management

Unit Four: Developmental, Psychosocial, and Cultural Considerations 11. Growth and Development: Infancy Through Adolescence 12. Adulthood and the Family 13. Promoting Healthy Adaptation to Aging 14. Cultural and Spiritual Aspects of Patient Care 15. Loss, Grief, and the Dying Patient

Unit Five: Basic Nursing Skills 16. Infection Prevention and Control: Protective Mechanisms and Asepsis 17. Infection Prevention and Control in the Hospital and Home 18. Lifting, Moving, and Positioning Patients 19. Assisting with Hygiene, Personal Care, Skin Care, and the Prevention of Pressure Ulcers 20. Patient Environment and Safety 21. Measuring Vital Signs 22. Assessing Health Status 23. Admitting, Transferring, and Discharging Patients 24. Diagnostic Tests and Specimen Collection

Unit Six: Meeting Basic Physiologic Needs 25. Fluid, Electrolyte, and Acid-Base Balance 26. Concepts of Basic Nutrition and Cultural Considerations 27. Diet Therapy and Assisted Feeding 28. Assisting with Respiration and Oxygen Delivery 29. Promoting Urinary Elimination 30. Promoting Bowel Elimination 31. Pain, Comfort and Sleep 32. Complementary and Alternative Therapies

Unit Seven: Medication Administration 33. Pharmacology and Preparation for Drug Administration 34. Administering Oral, Topical, and Inhalant Medications 35. Administering Intradermal, Subcutaneous, and Intramuscular Injections 36. Administering Intravenous Solutions and Medications

Unit Eight: Care of the Surgical and Immobile Patient 37. Care of the Surgical Patient 38. Providing Wound Care and Treating Pressure Ulcers 39. Promoting Musculoskeletal Function

Unit Nine: Caring for the Elderly 40. Common Physical Care Problems of the Elderly 41. Common Psychosocial Care Problems of the Elderly Appendixes Appendix A. ANA Standards of Nursing Practice Appendix B. ANA Code of Ethics Appendix C. NFLPN Code for Nurses Appendix D. Standard Steps for All Nursing Procedures Appendix E. Standard Precautions Appendix F. Most Common Laboratory Test Values Appendix G. Therapeutic Diets Appendix H. Medical Terminology Appendix I. Answers to NCLEX Examination-Style Review Questions Bibliography Illustration Credits Glossary Index

Susan C. deWit, MSN, RN, CNS, PHN, Formerly, Instructor of Nursing, El Centro College, Dallas, TX; and Allan Hancock College, Santa Maria, CA and Patricia O'Neill, RN, MS, Director, Content Development & Acquisitions, DigitalMed Inc., Boulder, CO