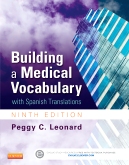 Medical Terminology Online for Building a Medical Vocabulary, 9th Edition
Online Course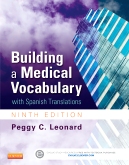 Or $0.00 with a valid access code
Reinforce your understanding of medical terminology and apply your knowledge to the clinical setting! With modules corresponding to the chapters in Building a Medical Vocabulary, 9th Edition, by Peggy C. Leonard, Medical Terminology Online supplements the textbook with interactive exercises as well as narrated animations and slide shows. Updates to MTO include the ability to access the course anytime and anywhere with a tablet or smartphone. Together with the text, Medical Terminology Online will strengthen your skills in using medical vocabulary and in communicating effectively with patients and other providers.
Duration for access to this product is for the life of the edition.
Some content has been removed from this site because Flash is no longer supported on web browsers.
Outcome-based modules and assessments guide you toward learning objectives and help in assessing your progress.
Interactive exercises help you recall and recognize medical terms with word building, identification, spelling, pronunciation, matching, multiple choice, true or false, fill-in-blank, labeling, and case studies.
Over 25 animations and slide shows accompanied by audio narrations demonstrate physiologic processes as well as concepts that are difficult to convey with static illustrations. Narrated animations and slide shows
More than 900 anatomical and disease and disorder illustrations clarify concepts and reinforce your understanding.
Medical record activities test your knowledge of the medical terminology used in actual patient records.
Exams in each module assess your knowledge and help you identify areas for further study.
6,000-term glossary includes definitions and pronunciations in English and Spanish, and for instant reference, terms may be accessed with a click from anywhere in the program.

NEW student-friendly features allow you to use mobile devices and tablets to complete this online course.
NEW terms and abbreviations keep you up to date with the latest advances in technology and changes in health care delivery.

1. Tools for Building Medical Terms
2. Building Terms with Suffixes
3. Using Prefixes and Anatomic Terms
4. Blood and Other Body Fluids
5. Circulatory
6. Respiratory System
7. Digestive System
8. Urinary System
9. Reproductive System
10. Musculoskeletal System
11. Nervous System and Psychological Disorders
12. Special Sense Organs of the Peripheral Nervous System
13. Integumentary System
14. Endocrine System

Peggy C. Leonard, BA, MT, MEd, Chesterfield, MO
Or $0.00 with a valid access code