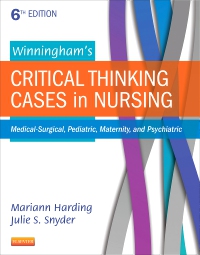 Publication Date:
02-02-2015
Winningham's Critical Thinking Cases in Nursing - Elsevier eBook on VitalSource, 6th Edition
Elsevier eBook on VitalSource
Publication Date:
02-02-2015
Highly regarded for its clinically relevant and thought-provoking content, Winningham's Critical Thinking Cases in Nursing, 6th Edition features 150 case studies that cover all four clinical practice areas: medical-surgical, pediatric, OB/maternity, and psychiatric nursing. Each case covers a common patient problem, drawn from actual clinical experiences and written by nurses who are clinical experts. This edition reflects the most current standards of clinical practice, and includes content on pharmacology, nutrition, and diagnostic/laboratory tests to prepare students for all aspects of patient care. With this workbook, your students will develop their clinical nursing judgment and bridge the gap from nursing knowledge to nursing practice.
Comprehensive case study approach uses cases drawn from actual clinical experiences to help you identify changes, anticipate possible complications, and initiate therapeutic interventions.
Progressive case complexity builds on previous learning and helps you develop more and more expertise.
150 case studies cover all major clinical areas, including medical-surgical, pediatric, OB/maternity, and psychiatric cases, providing you with many diverse clinical situations and opportunities to apply knowledge and develop critical thinking skills.
Body system organization makes the book easier to use with medical-surgical nursing textbooks and courses.

NEW! QSEN icons highlight essential safety content.
NEW! Increased emphasis on NCLEX® Exam-style alternate-format questions includes multiple-response, prioritization, and illustration-based questions, offering better NCLEX Examination preparation.
NEW! Additional documentation questions and a NEW Chart View design provide more experience in documenting patient care based on real-world electronic chart formats.
NEW! Reorganized format presents cases in three parts: 1) medical-surgical cases; 2) pediatric, maternity, and women's health cases; and 3) psychiatric and alternative therapies cases.
NEW! Increased difficulty level includes more questions about care of older adults and multi-system situations.
UPDATED content includes the latest clinical treatment guidelines, issues, and practice standards.

PART ONE: Medical-Surgical Cases 1. Cardiovascular Disorders 2. Respiratory Disorders 3. Musculoskeletal Disorders 4. Gastrointestinal Disorders 5. Genitourinary Disorders 6. Neurologic Disorders 7. Endocrine Disorders 8. Immunologic Disorders 9. Oncologic and Hematologic Disorders 10. Patients with Multiple Disorders 11. Emergency Situations

PART TWO: Pediatric, Maternity, and Women's Health Cases 12. Pediatric Disorders 13. Maternal and Obstetric Care 14. Women's Health Care

PART THREE: Psychiatric and Alternative Therapies Cases 15. Psychiatric Disorders 16. Alternative Therapies

APPENDIX: Abbreviations and Acronyms

Mariann M. Harding, PhD, RN, CNE, FAADN, Professor of Nursing Technology,Kent State University Tuscarawas,New Philadelphia, Ohio and Julie S. Snyder, MSN, RN-BC, Performance Improvement Coordinator, Chesapeake Regional Medical Center, Chesapeake, Virginia; Adjunct Faculty, School of Nursing, Old Dominion University, Norfolk, Virginia.