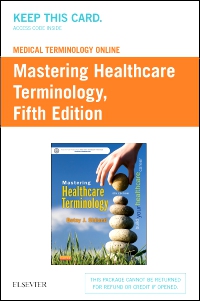 Medical Terminology Online for Mastering Healthcare Terminology, 5th Edition
Online Course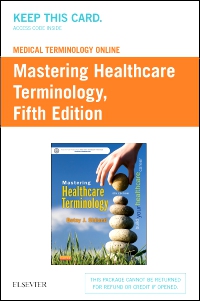 Or $0.00 with a valid access code
Build your knowledge of medical terminology and communicate effectively in the healthcare setting! With modules corresponding to the chapters in Mastering Healthcare Terminology, 5th Edition, by Betsy Shiland, Medical Terminology Online brings medical terminology to life with fun, interactive exercises as well as narrated animations and slide shows. Word building and labeling activities strengthen your skills in using medical vocabulary. Use MTO together with the textbook, and you will come to terms with healthcare language and learn to apply specialized vocabulary in real-world practice.
Duration for access to this product is for the life of the edition.
Some content has been removed from this site because Flash is no longer supported on web browsers.
Outcome-based learning includes modules that are mapped to specific objectives, with a short assessment after each block of content.
Interactive exercises help you recall and recognize medical terms with word building, labeling, spelling, image association, pronunciation, matching, true or false, fill-in-the-blank, and case studies.
Narrated animations and slide shows bring terminology to life, clearly demonstrate physiologic processes, and explain concepts that are difficult to convey with static illustrations.
More than 1,000 high-quality illustrations clarify concepts and reinforce your understanding.
Threaded case studies follow a patient with a particular medical condition throughout an entire module to show the real-life applications of medical terminology.
Medical record activities test your knowledge of the medical terminology used in actual patient records.
Assessment of strengths and weaknesses can be made with a self-mastery quiz and self-mastery exam at the end of each module, with results automatically scored and reported to the instructor.
End-of-module case studies include questions on the terms used to describe medical conditions.
Over 5,000-term English/Spanish glossary includes medical terms, definitions, and audio pronunciations in both languages.

NEW! Updated terms, abbreviations, images, and animations keep you current with the latest advances in technology and changes in healthcare.

1. Introduction to Healthcare Terminology
2. Body Structure and Directional Terminology
3. Musculoskeletal System
4. Integumentary System
5. Gastrointestinal System
6. Urinary System
7. Male Reproductive System
8. Female Reproductive System and Pregnancy
9. Blood, Lymphatic, and Immune Systems
10. Cardiovascular System
11. Respiratory System
12. Nervous System
13. Eye and Ear
14. Endocrine System
15. Mental and Behavioral Health
16. Oncology

Betsy J. Shiland, MS, RHIA, CCS, CHDA, CPC, CPB, CPPM, Former Assistant Professor, Allied Health Department, Community College of Philadelphia, Philadelphia, Pennsylvania
Or $0.00 with a valid access code