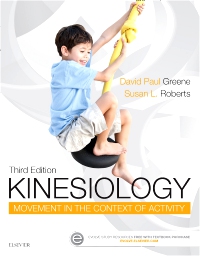 Publication Date:
01-25-2016
Kinesiology - Elsevier eBook on VitalSource, 3rd Edition
Elsevier eBook on VitalSource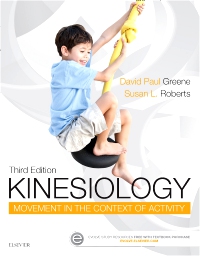 Publication Date:
01-25-2016
Or $0.00 with a valid access code
Enhance your OT skills with the only book to focus on activity demands of occupation and the biomechanics of sensory organs! Greene and Roberts' Kinesiology: Movement in the Context of Activity, 3rd Edition uses a comprehensive, client-centered approach to occupational therapy, including sensory-motor performance skills and socio-cultural contexts related to solving a clinical problem. It covers kinesiologic and biomechanical principles, and shows techniques for producing positive outcomes when clients face challenging activity demands in all areas of occupation. Written by OTs for OTs, this reference helps you learn how to treat clinical diagnoses as personal experiences encountered in real-life situations.
Client-focused approach presents information in the same order an OT practitioner would follow to solve a clinical problem, emphasizing kinesiologic and biomechanical principles rather than mathematics and trigonometry.
Nearly 300 detailed, colorful illustrations make it easier to understand how human movement relates to occupational performance.
Coverage of the entire body shows how biomechanical principles apply to activity demands on the head and trunk, as well as to the upper and lower extremities.
Case studies present real-life client situations, allowing you to apply concepts and solve problems.
Critical thinking questions, physical activities, and interactive exercises stress clear, conceptual thinking and an understanding of real client situations.
Lab Manual for Kinesiology: Movement in the Context of Activity at the back of the book offers hands-on activities including movement of the human musculoskeletal system, wheelchair stability and transfers, sensory receptors, movements of the upper extremities, and positioning of the hip, knee, and ankle.
Closer Look boxes examine key topics that are complicated or need further explanation, and add information relevant to practice.

NEW! Utilizing the Sensory Environment: Integrating Physics into Sensory Interventions chapter explores how the forces used in the application of hands, tools, or equipment activate the sensory receptor cells, leading to more reliable assessments and outcomes.

Section 1
1. Biomechanics, Kinesiology, and Occupational Therapy: A Good Fit
2. The Study of Human Movement: Concepts from Related Fields
3. Gravity: A Constant Force
4. Linear Force and Motion
5. Rotary Force, Torque, and Motion
6. Utilizing the Sensory Environment: Integrating Physics into Sensory Interventions
Section 2
7. The Head and Torso
8. The Proximal Upper Extremity
9. The Distal Upper Extremity
10. The Lower Extremity
Appendixes
A: English to Metric Conversions
B: Body Segment Parameters
C: Solutions to Chapter Applications
D: Review of Mathematics
E: Trigonometric Functions
F: Commonly Used Formulas in Biomechanics
G: Synopsis of Characters
J: Working Models of the Fingers and Wrist
Glossary
Lab Manual for Kinesiology: Movement in the Context of Activity

David Paul Greene, PhD, MS, OTR, Colorado State Univeirsity, Fort Collins, CO and Susan L. Roberts, MDiv, OTR, Changes Occupational Therapy, New York, NY