Netter's Anatomy Flash Cards Elsevier eBook on VitalSource, 4th Edition
Elsevier eBook on VitalSource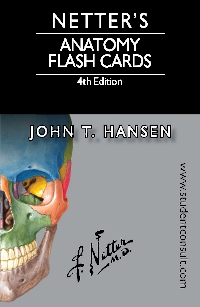 Or $0.00 with a valid access code
Netter's Anatomy Flash Cards are the most convenient and portable way to review anatomy on the fly. This 4th Edition contains full-color illustrations from Netter's Atlas of Human Anatomy, 6th Edition paired with concise text identifying those structures and reviewing relevant anatomical information and clinical correlations. Online access at studentconsult lets you review anatomy from any computer, plus additional "bonus" cards and over 300 multiple-choice questions.
A perfect study aid and complement to Netter's Clinical Anatomy, 3rd Edition concise text and the Netter/Atlas of Human Anatomy, 6th Edition.
Netter. It's how you know.
Test and teach yourself at your own pace.

Visually learn and identify anatomic structures using beautifully drawn artwork by and in the style of Frank Netter.

Get clinically relevant knowledge with accompanying text and tables.

Pre-punched holes make it easy to carry selected groups of cards with you.

Focus on the most relevant clinical implications of anatomic concepts, helpful in preparing for exams and the USMLE Step 1.

Cross-referenced to the Atlas of Human Anatomy, 6th Edition.

Section 1: Head and Neck

Section 2: Back and Spinal Cord

Section 3: Thorax

Section 4: Abdomen

Section 5: Pelvis and Perineum

Section 6: Upper Limb

Section 7: Lower Limb

John T. Hansen, PhD, Professor of Neurobiology and Anatomy, Associate Dean for Admissions, University of Rochester School of Medicine and Dentistry, Rochester, New York