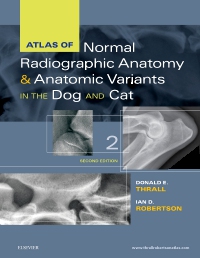 Publication Date:
09-29-2015
Atlas of Normal Radiographic Anatomy and Anatomic Variants in the Dog and Cat, 2nd Edition
Hardcover
Publication Date:
09-29-2015
Help your students learn to make accurate diagnoses with this comprehensive visual atlas! Featuring a substantial number of new high contrast images, Atlas of Normal Radiographic Anatomy and Anatomic Variants in the Dog and Cat, 2nd Edition gives your students an in-depth look at both normal and variants of normal subjects to build their confidence in distinguishing between normal and abnormal findings. Expert authors Donald E. Thrall and Ian D. Robertson describe a wider range of "normal" as compared to competing books — not only showing standard dogs and cats, but also non-standard subjects such as overweight and underweight pets and animals with breed-specific variations. Every body part is put into context with a textual description to help students understand why a structure appears as it does in radiographs, and enabling them to appreciate variations of normal that are not included, based on an understanding of basic radiographic principles.
Radiographic images of normal or standard prototypical animals are supplemented by images of non-standard subjects exhibiting breed-specific differences, physiologic variants, or common congenital malformations.
Images that depict a wider range of "normal" — such as images that detail the natural growth and aging characteristics of normal pediatric and senior animals — prevents clinical under- and over-diagnosing.
In-depth coverage of patient positioning and radiographic exposure guidelines assist clinicians in producing the very best results.
Unlabeled radiographs along side labeled counterparts clarifies important anatomic structures of clinical interest.
High-quality digital images provide excellent contrast resolution and better visibility of normal structures to assist clinicians in making accurate diagnoses.
Brief descriptive text and explanatory legends accompany all images to help put concepts into the proper context.
An overview of radiographic technique includes the effects of patient positioning, respiration, and exposure factors.

NEW! Companion website features additional radiographic CT scans and more than 100 questions with answers and rationales.
NEW! Additional CT and 3D images have been added to each chapter to help clinicians better evaluate the detail of bony structures.
NEW! Breed-specific images of dogs and cats are included throughout the atlas to help clinicians better understand the variances in different breeds.
NEW! Updated material on oblique view radiography provides a better understanding of an alternative approach to radiography, particularly in fracture cases.
NEW! 8.5" x 11" trim size makes the atlas easy to store.

TABLE OF CONTENTS
1. Introduction
2. The Skull
3. The Spine
4. The Thoracic Limb
5. The Pelvic Limb
6. The Thorax
7. The Abdomen

Donald E. Thrall, DVM, PhD, DACVR, Clinical Professor Department of Molecular Biomedical Sciences College of Veterinary Medicine North Carolina State University Raleigh, NC 27695 Radiologist/Consultant VDIC – IDEXX Telemedicine Consultants IDEXX Laboratories, Inc. Clackmas, OR and Ian D. Robertson, BVSc, DACVR, Clinical Associate Professor, Department of Molecular Biomedical Sciences, College of Veterinary Medicine, North Carolina State University
In Stock
Most review copies are eBooks – how fast!