Elsevier Adaptive Learning for Gould's Pathophysiology for the Health Professions, 5th Edition
Elsevier Adaptive Learning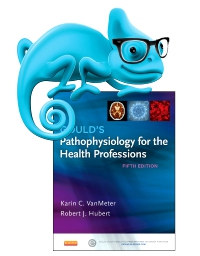 Or $0.00 with a valid access code
Corresponding chapter-by-chapter to Gould's Pathophysiology for the Health Professions, 5e, Elsevier Adaptive Learning combines the power of brain science with sophisticated, patented Cerego algorithms to help you learn faster and remember longer. It's fun; it's engaging; and it's constantly tracking your performance and adapting to deliver content precisely when it's needed to ensure core information is transformed into lasting knowledge.
Duration for access to this product, which may be at the discretion of your institution, is up to 36 months. Elsevier reserves the right to restrict or remove access due to changes in product portfolio or other market conditions.
An individual study schedule reduces cognitive workload and helps you become a more effective learner by automatically guiding the learning and review process.
The mobile app offers a seamless learning experience between your smartphone and the web with your memory profile maintained and managed in the cloud.
UNIQUE! Your memory strength is profiled at the course, chapter, and item level to identify personal learning and forgetting patterns.
UNIQUE! Material is re-presented just before you would naturally forget it to counteract memory decay.
A personalized learning pathway is established based on your learning profile, memory map, and time required to demonstrate information mastery.
The comprehensive student dashboard allows you to view your personal learning progress.

Section I: Pathophysiology: Background and Overview
1. Introduction to Pathophysiology
2. Fluid, Electrolyte, and Acid-Base Imbalances
3. Introduction to Basic Pharmacology and Other Common Therapies
4. Pain
Section II: Defense/Protective Mechanisms NEW!
5. Inflammation and Healing
6. Infection
7. Immunity
Section III: Pathophysiology of Body Systems
8. Skin Disorders
9. Musculoskeletal Disorders
10. Blood and the Circulatory System
11. Lymphatic System Disorders
12. Cardiovascular System Disorders
13. Respiratory System Disorders
14. Neurological Disorders
15. Eyes, Ears and Other Sensory Organs
16. Endocrine Disorders
17. Digestive System Disorders
18. Urinary System Disorders
19. Reproductive System Disorders
20. Neoplasms and Cancer
Section IV: Factors Contributing to Pathophysiology
21. Congenital and Genetic Disorders
22. Complications Due to Pregnancy
23. Complications Due to Adolescence
24. Complications Due to Aging
Section V: Environmental Factors and Pathophysiology
25. Immobility and Associated Problems
26. Stress and Associated Problems
27. Substance Abuse and Associated Problems
28. Environmental Hazards and Associated Problems
Appendixes: Ready References
Ready Reference 1: Body Planes, Cavities, Regions, Fluid Compartments, and Body Movements
Ready Reference 2: Anatomic Terms
Ready Reference 3: Conversion Tables
Ready Reference 4: Common Abbreviations and Acronyms
Ready Reference 5: Common Diagnostic Studies and Tests
Ready Reference 6: Example of a Medical History
Ready Reference 7: Disease Index
Ready Reference 8: Drug Index
Ready Reference 9: Additional Resources
Glossary

Karin C. VanMeter, PhD, Lecturer, Iowa State University, Department of Biomedical Sciences, College of Veterinary Medicine, Ames, Iowa and Robert J. Hubert, BS, Laboratory Coordinator, Iowa State University, Department of Animal Sciences, Ames, Iowa.