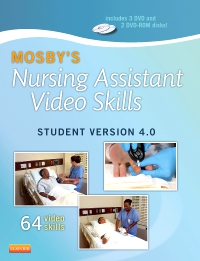 Mosby's Nursing Assistant Video Skills: Student Online Version 4.0, 4th Edition
Video Series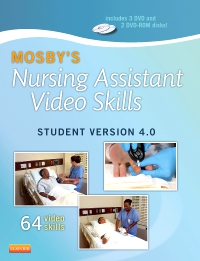 Or $0.00 with a valid access code
Mosby's Nursing Assistant Video Skills visually depict the skills you need to master to become a successful nursing assistant. With live-action demonstrations of standard procedures performed by actual nursing assistants, each video demonstrates how to perform a specific skill in a step-by-step format, according to the most current nurse assisting practice. All-new footage shows the skills that parallel the procedure steps outlined in all Elsevier nursing assistant textbooks, with print PDFs of procedures steps and equipment lists for quick and easy reference.
Duration for access to this product is for the life of the edition.
Some content has been removed from this site because Flash is no longer supported on web browsers.
Live action, step-by-step procedures clearly and accurately demonstrate how to perform skills.
Cultural diversity is represented in both the patients and the nurses, reflecting the reality of today's practice.
Actual nurses and nursing assistants demonstrate realistic performance of skills.
Exciting computer graphics and animations enhance the fast-paced, engaging presentation.
Each skill includes tabs that break the entire procedure down into easy-to-follow segments.

NEW! Confusion and Dementia module includes the skills Caring for the Person with Confusion and Dementia and Caring for the Person with AD and Other Dementias.
NEW! New skills include Moving the Person to the Side of the Bed, Applying Incontinence Products, Collecting a 24-Hour Urine Specimen, and Measuring Blood Glucose.
NEW! Print PDFs of procedures steps and equipment lists allow for quick and easy reference.
NEW! A complete revision with all-new footage depicts skills that parallel the procedures outlined in Elsevier's nursing assistant textbooks.

Infection Control and Safety Measures • Performing Hand Hygiene • Using Personal Protective Equipment • Using Restraint Alternatives • Applying Restraints Safely

Body Mechanics and Exercise • Moving the Person Up in Bed • Positioning the Person in Bed • Transferring the Person to a Chair or Wheelchair • Moving the Person to a Stretcher • Transferring the Person Using a Mechanical Lift • Assisting with Range-of-Motion Exercises • Helping the Person Walk

Bathing and Bedmaking • Giving a Complete or Partial Bed Bath • Assisting with a Tub Bath or Shower • Giving Female Perineal Care • Giving Male Perineal Care • Making a Closed Bed • Making an Occupied Bed • Making a Surgical Bed

Personal Hygiene and Grooming • Performing Oral Hygiene • Providing Denture Care • Brushing and Combing the Person's Hair • Shampooing the Person's Hair • Shaving the Person's Face • Giving Nail and Foot Care • Assisting with Undressing and Dressing • Changing the Gown of the Person with an IV

Elimination Assistance • Helping the Person to the Commode • NEW! Applying Incontinence Products • Giving the Urinal • Giving the Bedpan • Applying a Condom Catheter • Giving Catheter Care • Emptying a Urinary Drainage Bag • Changing a Leg Bag to a Drainage Bag • Giving an Enema • Changing an Ostomy Bag

Nutrition and Fluids • Serving Meal Trays • Feeding the Person • Measuring Intake and Output

Measurements and Vital Signs • Measuring Weight and Height • Taking a Radial Pulse • Taking an Apical Pulse • Counting Respirations • Taking a Temperature with an Electronic Thermometer • Measuring Blood Pressure • Using a Pulse Oximeter

Specimen Collection and Surgical Care • Collecting a Midstream Specimen • NEW! Collecting a 24-Hour Urine Specimen • Collecting and Testing a Stool Specimen • Collecting a Sputum Specimen • NEW! Measuring Blood Glucose • The Surgical Skin Prep: Shaving the Skin • Assisting with Deep Breathing and Coughing Exercises

Skin and Wound Care • Applying Elastic Stockings • Giving a Back Massage • Assisting with Pressure Ulcer Prevention and Care • Applying a Dry, Non-Sterile Dressing

Heat and Cold Applications • Performing a Hot or Cold Soak • Performing a Sitz Bath • Applying a Hot or Cold Compress • Applying a Hot or Cold Pack or an Ice Bag, Collar, or Glove • Using an Aquamatic or Aquathermia Pad

NEW! Confusion and Dementia • NEW! Caring for the Person with Confusion and Dementia • NEW! Caring for the Person with AD and Other Dementias

MOSBY
Or $0.00 with a valid access code