Essentials of Surgery Elsevier eBook on Vitalsource
,
Elsevier eBook on VitalSource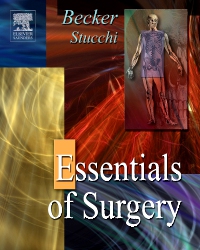 Or $0.00 with a valid access code
Essentials of Surgery efficiently delivers the knowledge you need to succeed in medical school and surgical residencies. More than 80 respected academic surgeons from leading institutions across the United States synthesize the most important information from the field. Essentials of Surgery will get you through this complex and dynamic specialty - expertise you'll turn to for years to come.
Zeroes in on the hands-on know-how necessary to diagnose and manage the full range of surgical diseases, including only the minimum basic science needed to meet these clinical challenges.
Considers surgery within the full armamentarium of therapeutic options, not simply as the sole route for treatment.
Emphasizes minimally-invasive surgery, ambulatory surgery and new surgical technologies to reflect the realities of today's practice.
Uses "Pearls for the OR" and "Pearls for Rounds" to convey key information at a glance.
Includes hundreds of original full-color illustrations to make concepts clear.
Includes one-year access to Sabiston Textbook of Surgery, 17th edition.
Includes access to www.studentconsult.com - where you'll find the complete text and illustrations of the book online, fully searchable · "Integration Links" to bonus content in other STUDENT CONSULT titles · video clips of common surgical procedures · content clipping for handheld devices · an interactive community center with a wealth of additional resources · and much more!

SECTION I. STUDENT-SPECIFIC ISSUES

1. Conquering Your Surgical Clerkship

2. Interpersonal and Communication Skills and Professionalism

3. Health and Safety

4. The Core Competencies

SECTION II. HOMEOSTASIS IN SURGICAL
PATIENTS

5. Principles of Preoperative Care and
Risk Assessment

6. Fluid and Electrolyte Management

7. Nutrition in Surgical Patients

8. Blood and Bleeding: Transfusions, Control, and Prevention

9. Wound Healing

10. Prevention and Management of Surgical Infections


SECTION III. CRITICAL CARE

11. Trauma

12. Critical Care

13. Burns

SECTION IV. ABDOMEN

14. The Acute Abdomen

15. Appendicitis

16. Hernias

SECTION V. HEPATOBILIARY AND SPLEEN

17. Biliary System

18. Liver

19. Portal Hypertension

20. Spleen and Hematologic Disorders

SECTION VI. GASTROINTESTINAL

21. Colon and Anorectum

22. Inflammatory Bowel Disease

23. Motility Disorders

24. Pancreas

25. Small Intestine

26. Stomach and Duodenum

27. Esophagus

SECTION VII. CARDIOTHORACIC

28. Disorders of the Trachea, Chest Wall, Pleura, Mediastinum, and Lung

29. Acquired Cardiac Disorders

30. Congenital Cardiac Disorders

SECTION VIII. ENDOCRINE

31. Thyroid Gland

32. Parathyroid Glands

33. Adrenal Glands

34. Pituitary Glands

SECTION IX. VASCULAR SYSTEM

35. Lymphatic and Venous Systems

36. Deep Venous Thrombosis and
Pulmonary Embolism

37. Peripheral Arterial Occlusive Disease

38. Aneurysms

39. Cerebrovascular Disease

SECTION X. TUMORS AND ONCOLOGY

40. Breast Cancer

41. Principles of Surgical Oncology

SECTION XI. ORTHOPEDIC SURGERY

42. Diseases of the Bones and Joints

43. Hand Surgery

44. Soft Tissue Injuries

45. Fractures

46. Pediatric Orthopedics

SECTION XII. NEUROSURGERY

47. Management of Patients with Neurosurgical Diseases

48. Central Nervous System and Spinal Degenerative Diseases and Infections

49. Neoplasms

SECTION XIII. OTORHINOLARYNGOLOGY

50. Otologic and Neuro-otologic Diseases

51. Head and Neck Oncologic Surgery

52. Pediatric Otolaryngology

53. Facial Plastic and Reconstructive
Surgery

SECTION XIV. PEDIATRIC SURGERY

54. Newborn and Pediatric Perioperative Care

55. Pediatric Trauma and Burns

56. Pediatric Head, Neck, and Thoracic Disorders

57. Pediatric Gastrointestinal, Abdominal Wall, Inguinal, and
Scrotal Disorders

58. Vascular Anomalies, Tumors, and Twins

SECTION XV. PLASTIC SURGERY

59. Surgical Techniques and Wound Management

60. Reconstructive and Aesthetic Surgery

SECTION XVI. UROLOGY

61. Anatomy and Oncology

62. Urinary Tract Dysfunction

63. Urinary Tract Lithiasis and
Infections

SECTION XVII. SPECIAL TOPICS

64. Anesthesia

65. Dermatologic Surgery

66. Minimal Access Surgery

67. Transplantation

James M. Becker, MD, James Utley Professor and Chair, Department of Surgery, Boston University School of Medicine; Surgeon-in-Chief, Boston University Medical Center, Boston, MA and Arthur F. Stucchi, PhD, Associate Professor, Departments of Surgery, Pathology, and Laboratory Medicine, Boston University School of Medicine, Boston, MA