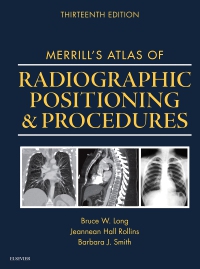 Mosby's Radiography Online: Anatomy and Positioning for Merrill's Atlas of Radiographic Positioning and Procedures, 13th Edition
Online Course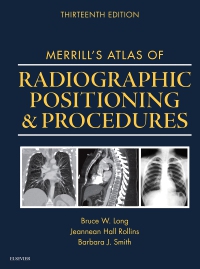 Or $0.00 with a valid access code
Reinforce your understanding of anatomy and positioning with Mosby's Radiography Online! Corresponding to the content in Merrill's Atlas of Radiographic Positioning & Procedures, 13th Edition, this online course helps you develop the skills needed to produce diagnostic-quality radiographs. Narrated animations and slide shows clarify difficult concepts, and problem-based learning helps you develop critical thinking skills. Interactive exercises allow you to assess your knowledge and provide the review you need to improve your test scores. From radiologic imaging experts Bruce Long, Jeannean Hall Rollins, and Barbara Smith, MRO makes it easier to learn, apply, and master the concepts in your textbook.
Duration for access to this product, which may be at the discretion of your institution, is up to 36 months. Elsevier reserves the right to restrict or remove access due to changes in product portfolio or other market conditions.
Some content has been removed from this site because Flash is no longer supported on web browsers.
Animations and slide shows with audio narration demonstrate positioning procedures and communicate concepts that are difficult to convey with static illustrations.
A variety of interactive exercises, some with case studies, reinforce learning and make your study more interesting and engaging.
Demonstrations of trauma and pathology include both routine and special projections to prepare you for unique situations encountered in the clinical environment.
Image evaluation exercises show positioning as well as technical errors, and promote critical thinking.
Labeling exercises provide a review of the anatomy and articulations of body parts, challenging your knowledge and helping you determine if you're ready to proceed in the module.
Self-assessment quizzes help you determine your strengths and weaknesses before taking the exam.
Glossary link on every screen offers easy access to glossary terms at any point in the course.
Key terms are bolded and linked to definitions in the glossary.

Image enlargement lets you see the details of radiographs in pop-up windows.
Reading assignments correspond to Merrill's Atlas of Radiographic Positioning & Procedures, 13th Edition.

MODULES
1. Preliminary Steps in Radiography
2. Compensating Filters
3. General Anatomy and Radiographic Positioning Terminology
4. Upper Limb
5. Shoulder Girdle
6. Lower Limb
7. Pelvis and Upper Femora
8. Vertebral Column
9. Bony Thorax
10. Thoracic Viscera
11. Long Bone Measurement
12. Contrast Arthrography
13. Trauma Radiography
14. Mouth and Salivary Glands
15. Anterior Part of Neck
16. Abdomen
17. Digestive System: Alimentary Canal
18. Urinary System and Venipuncture
19. Reproductive System
20. Skull, Facial Bones, and Paranasal Sinuses
21. Mammography
22. Central Nervous System
23. Vascular, Cardiac, and Interventional Radiography
24. Pediatric Imaging
25. Geriatric Radiography
26. Mobile Radiography
27. Surgical Radiography
28. Sectional Anatomy for Radiographers
29. Computed Tomography
30. Magnetic Resonance Imaging
31. Diagnostic Medical Sonography
32. Nuclear Medicine
33. Bone Densitometry
34. Radiation Oncology
35. Capstone

Bruce W. Long, MS, RT(R)(CV), FASRT, FAEIRS, Director and Associate Professor (Retired), Radiologic Imaging and Sciences Programs, Indiana University School of Medicine, Indianapolis, Indiana., Jeannean Hall Rollins, M.R.C., R.T. (R)(CV)(M)(ARRT), Associate Professor Medical Imaging and Radiation Sciences, Mammography Program Coordinator,Arkansas State University, Jonesboro,AR and Barbara J. Smith, MS, RT(R)(QM), FASRT, FAEIRS, Instructor, Radiologic Technology, Medical Imaging Department, Portland Community College, Portland, OR, USA
Or $0.00 with a valid access code